Howdy MiceChatters. I just got done reading Carlene Thie's newest book, Homecoming Destination Disneyland. I just loved all of the old photos and commentary from Disney legends (and those who knew them). What an amazing little book. I've enjoyed all of Carlene's books, but this is by far my favorite to date. I'll write a review for the MC Update on MiceAge tomorrow, but here is a good description of what the book is about that I found on the publisher's web site:
Homecoming Destination Disneyland
New Book to Celebrate Disneyland's 50th Anniversary
To commemorate Disneyland's Golden Anniversary, Ape Pen Publishing has released Homecoming Destination Disneyland, a collection of vintage photographs by veteran news photographer Mell Kilpatrick, narrative tributes from a host of celebrities, and exclusive artwork by legendary Disney artist Sam McKim.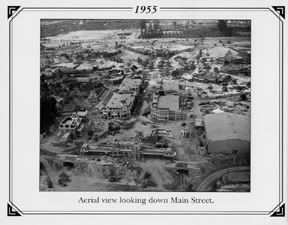 Photo courtesy of Ape Pen Publishing
Narrative tributes include brief recollections from people involved with Walt Disney and the Disneyland Park during its early years. Many former employees of Walt Disney Productions, including former cast members, celebrities and imagineers, contributed personal recollections of Walt and his dream.
Homecoming Destination Disneyland includes select reproductions of the original Disneyland press releases from the 1955 press kit, which had been saved by the author's grandfather, photographer Mell Kilpatrick. More than a dozen movie stars, television personalities, Disney cast members and other entertainment industry personnel lend tribute to the Disney dream in the new book.
A foreword by Keith Murdoch, City Manager of Anaheim during the 1950s, shares a fascinating look at the search for the perfect location for the Magic Kingdom. Keith guided Walt through the miles of Anaheim orange groves, in search of parcels which could accommodate Walt's dream park.
Ron Dominguez, second-generation Anaheim native shares the story of how his family came to sell their ancestral home and orange groves to a buyer with mysterious plans for the property. Dominguez recalls his teen years working at the park and eventually rising to the position of Executive Vice President of Disneyland.
Also featured in Homecoming Destination Disneyland are narratives by veteran TV personality Art Linkletter, actors Fess Parker, Dean Jones, Tim Conway, Don Knotts, and Wally Boag, artist Brian McKim, director Richard Fleischer, illusionist Teller (of Penn & Teller), Matt McKim, and Sam McKim, Walt Disney's secretary Lucille Martin, former Disneyland president Jack Lindquist, Disney creative director David Pacheco, animators Ollie Johnston (the last of Walt's nine old men) and Ron Dias, Floyd Norman, Willie Ito, voice talents Lisa Davis, Ilene Woods, imagineer Yale Gracey, and Mouseketeer Tommy Cole.
For more information about this and other books by Carlene Thie, please visit
www.apepenpublishing.com
The photo above is posted at the kind permission of the publisher. Another will run on MiceAge tomorrow (My favorite of Skull Rock). Carlene has put a lot of heart into this book, which is a fitting tribute to her grandfather who took the featured photos (at times hanging out of an airplane to do so - as in the photo above).
-Dusty