The first treasure for next year's Walt Disney Treasures DVD line has been revealed on another message board.
If you bought 2 treasures from wave 8, you were eligible to get a free Zorro lithograph through the Disney website:
Free Zorro Lithograph Offer
The lithograph comes with a flyer revelaing that the masked swashbuckler will be one of next year's treasures sets. Doesn't say what the contents of the two DVDs will be though.
Here's a quick Photoshop job I did of what the cover may look like: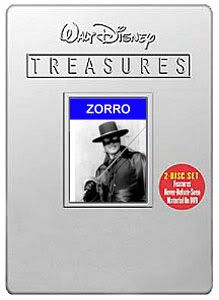 No date has been revealed yet when the 3 or 4 WDT sets will be released.