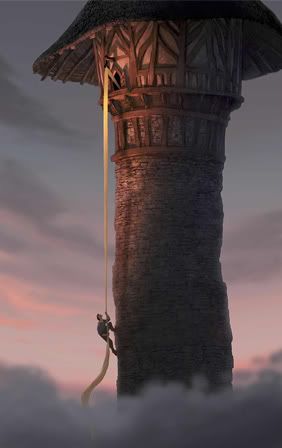 Excerpt from an interview with Byron Howard,
Academy Award nominee/co-director of 'Bolt' and co-director with Nathan Greno of 'Rapunzel':
BD: And how is Rapunzel going, Byron?

BH: Oh, very well. It's very early. Nathan [Greno] and I have only been on it for 10 weeks. We're going to have our first screening internally in about a week, and we've got a couple songs from Alan Menken. I think Chris said this very well when we were in Europe: someone was asking us how many times we screen and Chris told them, "Well, each time you screen, you're not making the film, you're just building platforms to see where it could be." So with Rapunzel, we're building this new platform a little higher, a little higher. We're getting that first base and we can step up from that and see where the next place we have to go, which is probably eight weeks later with the next screening. But it is a very fluid and communal and cooperative process. It's nice that you're making this with a team of friends that all care about the same thing and all want to make the film great.

BD: And are you able to take advantage of some of the groundbreaking work on Bolt?

BH: That's true: Bolt did break ground in a lot of areas and a lot of the folks that worked on Bolt are working with us to try and get CG films to look not so computer-generated. I think that's where Bolt succeeded so well... it's still very organic and very soft, and the painterly look actually makes the backgrounds almost look more real than real sometimes.
Animation World Magazine
Keane taken off Rapunzel -10/9/08
http://micechat.com/forums/movies/10...-rapunzel.html
Walt Disney Animation Studios