Disneyland Australia : Finally, proof that it was not a mirage
Do you remember the "Disneyland Australia" rumor we heard more than a year and a half ago in February 2008? At that time, Disney denied that they had plans for an Australian theme park, but you know what? Finally, the Disneyland Australia project was not a rumor or a
mirage
, but was true.
Let's go back in time to remember the whole story. On February 27th, 2008 Jano Gibson, a Sydney Morning Herald journalist, wrote this article:
WHITE BAY, NEW SOUTH WALES, AU --
The Walt Disney Company has been eyeing off a prime piece of real estate on Sydney Harbour as it seeks to expand its global empire of theme parks and resorts.

The State Government has confirmed Disney recently held unsolicited discussions with the Dept of State and Regional Development about the redevelopment of White Bay, a working port next to the Anzac Bridge.

A spokesman for the Minister for State Development, Ian Macdonald, would not elaborate on what was proposed during the discussions, saying only that they took place in the past few months and had been discontinued.

Disney, which has 11 theme parks, 8 resorts and a cruise line across 3 continents, was one of a number of unnamed companies that have approached the Government with unsolicited proposals for the site, the spokesman said.

There were no "active concepts" at present, he said.

A spokesman for Disney, John Nicoletti, said his company was constantly exploring opportunities to grow. "As part of that process, we have conversations with lots of entities," he said. "And, while Australia is an attractive market, at this time we have no plans for this region."

He would not comment on what Disney had envisioned for the White Bay site, including whether it was for a Disneyland theme park, a Disney resort or some other venture.

The Government has established the Bays Precinct Taskforce to formulate a development strategy for White Bay, Glebe Island, Blackwattle Bay and Rozelle Bay.

Details are expected to be released when the sub-regional strategy for Sydney's inner west goes on display this year.

The executive director of the Sydney Chamber of Commerce, Patricia Forsythe, said a Disneyland at White Bay would be a wonderful opportunity for Sydney. "It is a spectacular site worthy of an iconic development," she said.

She said a world-class arts facility would also be suitable.

The secretary of the White Bay Precinct Committee, Christina Ritchie, said locals must have a say on the site's development. She could not comment on the Disney discussion without more detail".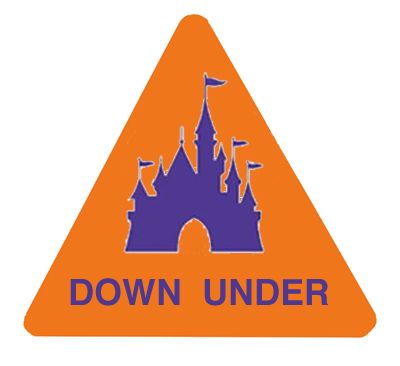 Personally, when I heard that news back in 2008, I thought it was a rumor. And, although I wish all of my Australian D&M readers to have a Magic Kingdom close to their homes as soon as possible, I thought that something was missing to make the project viable: not enough people living in Australia, and not enough tourists visiting the country.
The entire country of Australia has 20 million people and there are probably around 5 million tourists coming in the country each year. Most of them are coming from New Zealand (population 1 million) and they could be interested by a Disney theme park, as they don't have another one nearby. But for Japanese or British tourists, who are the other biggest tourists category visiting Australia, it's different. Japanese have two great Disney theme parks in their country (TDL and TDS) and the British have a great one just two hours from London (Disneyland Paris). Maybe they'd be counting on a heavy influx of other tourists from Asia, but why would they trek all the way to Disneyland Australia when they could just visit Disneyland in Hong Kong or Tokyo?
Also, Australia indeed has 20 million people, but considering that a Disney theme park needs at least 8 million visitors per year to have good financial results, I thought we could decide that there was not the required number of people/tourists to build a Disneyland in Australia, and that it was only a rumor.
And then last week Randy, a faithful Disney and more reader, sent me a link with these words: "Disneyland Australia? Have a look at this web site". Needless to say, I rushed to the link, and what a surprise it was.

Jump to the full Disney and more article to have full details and discover master plan AND Artwork of the Disneyland Australia project!
:
Disney and more: Disneyland Australia : Finally, proof that it was not a mirage
-