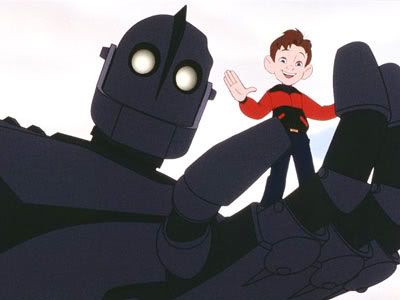 THE IRON GIANT
10th ANNIVERSARY CELEBRATION
ASIFA-Hollywood will celebrate the tenth anniversary of the 1999 animated masterpiece "The Iron Giant", with an evening with lively discussion with some of the animators and crew members on Friday, October 23, 2009, at 7:30 p.m., at the Fletcher Jones Foundation Auditorium, Woodbury University, in Burbank, California.
Among the many artists expected to attend will be writer and director Brad Bird, background artist Anne Guenther, art director Alan Bodner, lead animator Steve Markowski, and Scott Johnston who created the ToonShader software for the film. The panel will be moderated by animator Tom Sito.
"The Iron Giant is one of those rare films that flawlessly merged CG with traditional animation and represented superior storytelling," said ASIFA-Hollywood Vice-President Tom Sito. "ASIFA-Hollywood wants to showcase the individuals who made the iconic film, and the event will be extra-special with a rare appearance by Brad Bird."
Reservations are required for this event.
ASIFA-Hollywood: The International Animated Film Society