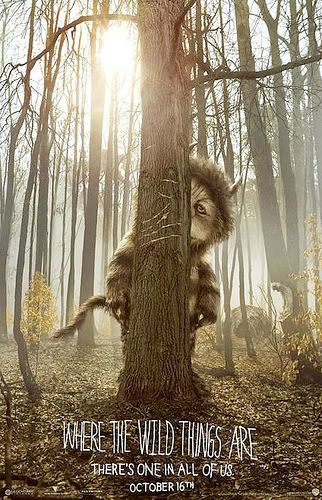 Spike Jones's
Where the Wild Things Are
opened this past weekend to $33 million and mixed reviews. Did you go see the film? What were your thoughts?
My feelings on the film:
The film, to me, was a thoughtful and loving meditation on the sparse text of it's source material and what it's like to be a 9 year old. As adults many tend to forget that we had issues to deal with when we were younger since our time is now taken up by much heavier matters and pressing issues. But, as illustrated by the main character, Max, we see that he is dealing with problems that seem to keep mounting in the only way he knows how. Max uses his fertile imagination to escape to an island where he is king.
Max's subjects are a group of beautifully realized monsters that, in some way, reflect a different aspect of Max own personality. Max navigates the dynamics of living with a group of animals as immature as he and this forces him to look inward and return home a better kid.
Jones has a wonderful ability with magical realism, or the fantastic in a realistic, believable setting. His sensibility and visual style is perfect for this material as well as his penchant for cerebral plot lines bordering on the absurd. The real problem here is not Jones so much as it is the lack of a particularly interesting way to teach our hero to grow up.
We are treated to fun set pieces like the Wild Rumpus, a crazy dirt clod war, and the construction of a massive fort. This is where the movie excels, when it's having fun. Unfortunately when the fun ends there really never seems to be any other direction. Was this the intended metaphor? That when one is a child life is nothing but waiting for the next fun moment? Perhaps. But in a film you shouldn't make the audience learn that lesson all over. You should entertain them as you watch the characters learn that lesson for themselves. Alfred Hitchcock once said that movies are like life but with the boring parts taken out. Unfortunately, they left some of the boring parts of real life in this film.
WTWTA is not a bad film. It is very well made. The production values are phenomenal, the soundtrack is perfect, and the adaptation is exceedingly faithful to the source material. They just forgot that the film should always be entertaining.
Matinee Price worthy