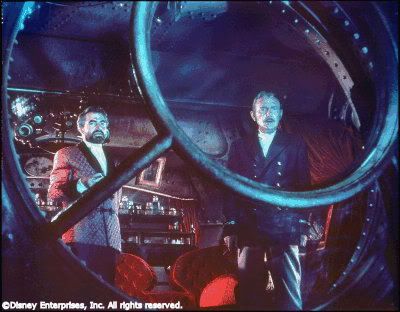 Better down where it's wetter: Captain Nemo (James Mason) and Professor Arronax (Paul Lukas)
Cartoonist/author Berkeley Breathed, of "Bloom County" and "Opus" fame, wrote a terrific commentary in the L.A. Times about the "over-pixelation" of Hollywood films and the decline of the good old-fashioned movie spectacle. He compares "2012" with Disney's "20,000 Leagues Under the Sea" to prove his point:
Keep in mind, Breathed decorated his home office in the style of the Nautilus, so he is just a bit of a fan. And even if he does get a fact or two wrong ("20,000 Leagues" wasn't Disney's first live-action film. It was the first live-action film produced at the Walt Disney Studios.), Breathed makes some great points about what's lacking in what passes as a blockbuster these days. More times than not, it involves a series of lame narrative setups presented as an excuse to blow up national monuments. I'm all in favor of CG wizardry when it enhances the story, but when the CG relentlessly IS the story, I become as numb and indifferent as Breathed's Szechuan guy.
"20,000 Leagues Under the Sea" isn't a perfect film--it tends to drag in spots--but James Mason is perfect as the slickly menacing Nemo, and Kirk Douglas' "Whale of a Tale" is one of my favorite Disney guilty pleasures. Then there's the giant squid battle. As rubbery and fake as it was, it's still a great action scene, one of Disney's most memorable. And not a pixel in sight.
The complete article:
Missing Nemo: Berkeley Breathed says new movies are missing magic and drowning in pixels [UPDATED] | Hero Complex | Los Angeles Times