Google Image Result for http://www.ropeofsilicon.com/Images/stories/2009/jul/rapunzel.jpg
Five Pieces of Concept Art For Repunzel
Google Image Result for http://www.firstshowing.net/img/Rapunzel-FL-01.jpg
A Look At CG 3-D Technology Involved In Rapunzel.. Along With A Traditional Painted Appearance Of The Film's Background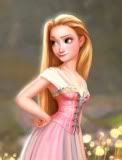 Rapunzel! Rapunzel! Let your gorgeous computer generated hair down...
"Directors
Glen Keane
and
Dean Wellins
(now replaced by Directors
Byron
Howard
and
Nathan
Greno
) want
Rapunzel
The Swing
." "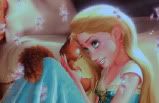 Disney animation imagery technicians are inventing a whole new standard for CGI that will go a long way toward making it just as awesomely beautiful in appearance as 2-D.. if not more so. Through Disney's application of today's technology in new ways, the CG media will profoudly advance. While disney 2-D animation has remained a wonderful thing for decades.. Walt was an irrepressable tinkerer.
Walt loved to "tinker with our bells" (so to speak) by constantly advancing.. moving from the silent animation film area through the invention of the Steamboat Willie talky. He advanced from b&w to color.. and he created the first full length animated feature movie. In addition to all of this, his studio created equipment that captured a form of depth and panning about that had never before been seen.
It is quite noble of some dedicated Disney animated film aficionados to prefer 2-D over 3-D. Unfortunately, many appear to love 2-D so much that they want time to stand still and never transition beyond. Standing in place just wasn't Walt's way, and thank goodness the Pixar merger seems to have resulted in a whole new animation renaissance.