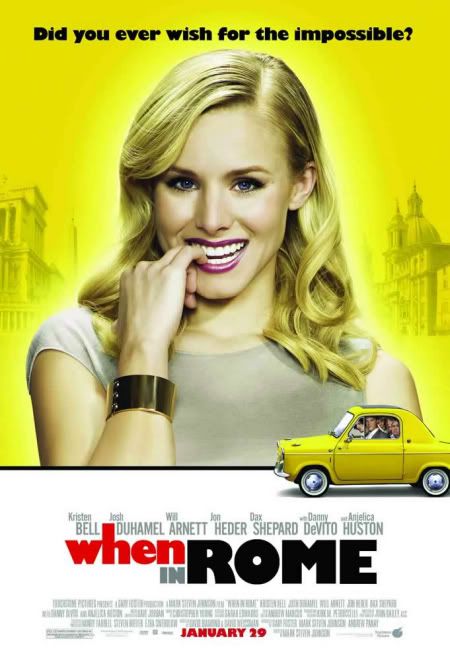 An ambitious young New Yorker (Kristen Bell), disillusioned with romance, takes a whirlwind trip to Rome where she defiantly plucks magic coins from a "foolish" fountain of love, inexplicably igniting the passion of an odd group of suitors: a sausage magnate (Danny DeVito), a street magician (Jon Heder), an adoring painter (Will Arnett) and a self-admiring model (Dax Shepard). But when a charming reporter (Josh Duhamel) pursues her with equal zest, how will she know if his love is the real thing?
Back on November 13th I got a chance to see an advance screening of Disney's first release of 2010, Touchstone Pictures' 'When in Rome'.
Cute, fluffy romantic-comedy with Kristen 'Veronica Mars' Bell & Josh 'Las Vegas' Duhamel. and featuring some very beautiful Italian settings, some very beautiful Italians, The Guggenheim Museum, lovely co-stars, a supporting cast of TV stars of past & present, an Oscar winner, a 'Napoleon Dynamite' mind-bender moment and a quite small car that looks like Luigi from John Lasseter's 'Cars'. Be sure to sit through the main end credits.
If the studio is lucky it could do half as well as 'The Proposal' did last year.
'When in Rome' from Touchstone Pictures
in theatres January 29th
When In Rome | Kristen Bell | Touchstone Pictures
2/10/08
http://micechat.com/forums/news/8986...when-rome.html