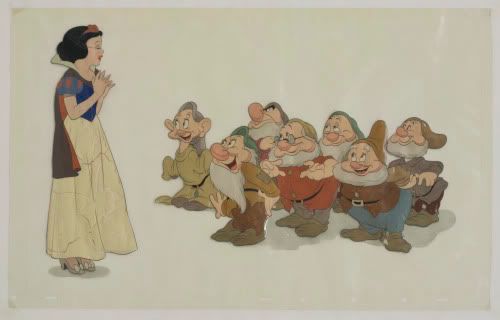 Snow White and the Seven Dwarfs. Image (c) Disney Enterprises Inc.
Despite Disney's best efforts to preserve its film legacy, early animation cels from "Snow White," "Pinocchio," "Fantasia" and other classics continue to deteriorate with time. In an effort to slow down or even possibly reverse the process, the L.A. Times reports Disney is partnering with the Getty Conservation Institute in a three-year study to better understand how cels break down and what can be done to preserve them.
Some of the cels already examined by the Getty show that paint is starting to come away from parts of the plastic, while others show signs of warping and yellowing, according to Learner.

The Disney Animation Research Library houses an estimated 65 million pieces of animation created over more than 80 years by the Walt Disney Animation Studios.

The Getty said the initial phase of research will involve an assessment of the best methods for the identification of the actual plastics used in the cels, and for monitoring the condition of cels made with cellulose nitrate and acetate.
Full Story:
Getty, Disney partner on study of animation cel artwork | Culture Monster | Los Angeles Times