This is kind of been tugging at me for a while and I just thought I'd ask the community at large what you think.
Some background:
In the 90s, when Disney would promote an animated film, they would have that announcer say something along the lines of:
"Disney proudly presents... their 34th animated feature length film..."
I kept counting all the way through 2005 when the Feature Animation became the CG house.
Somewhere in 2000, Dinosaur was released (also that year was Fantasia 2000 and Emperor's New Groove). Dinosaur was Disney's first entry into the CG category using live-action background plates.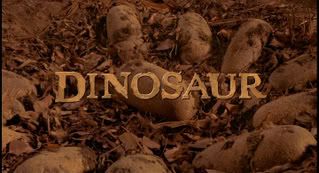 According to wikipedia, Dinosaur is considered the 39th in the Disney line-up. But should it? I always saw it as some specialty product in the same vein as the stop-motion films or the Disney Toons projects. Afterall, it was produced by Disney's CG dept known as The Secret Lab which is now shuttered.
I dunno... I've never classified it as official Disney Animated Feature Canon. Maybe I should fire a Q to Dave Smith or something. What do you guys think? Maybe I should just accept it since wikipedia says so -- but deep down... it's still this ugly duckling that doesn't quite fit in.
p.s. If Dinosaur DOES count... that means Tangled will be Disney's 50th full length animated feature. If not... next year's Winnie the Pooh will be.