2010

July 14th, 2010
Synopsis:
Website
Gallery
[ame="http://www.youtube.com/watch?v=9VZllR44gdA"]YouTube- 'The Sorcerer's Apprentice' Trailer HD[/ame]
Step-Up 3D
August 6th, 2010
Synopsis: A tight-knit group of New York City street dancers, including Luke (Malambri) and Natalie (Vinson), team up with NYU freshman Moose (Sevani), and find themselves pitted against the world's best hip hop dancers in a high-stakes showdown that will change their lives forever.
[ame="http://www.youtube.com/watch?v=N4AszRrvR8Y&feature=fvst"]YouTube- 'Step Up 3D' Trailer 2 HD[/ame]
Secretariat
October 8th, 2010
Synopsis: Housewife and mother Penny Chenery (Diane Lane) agrees to take over her ailing father's Virginia-based Meadow Stables, despite her lack of horse-racing knowledge. Against all odds, Chenery -- with the help of veteran trainer Lucien Laurin (John Malkovich) -- manages to navigate the male-dominated business, ultimately fostering the first Triple Crown winner in 25 years
November 12th, 2010
[ame="http://www.youtube.com/watch?v=t8-EEYLNVsw"]YouTube- Tangled - Teaser Trailer[/ame] [ame="http://www.youtube.com/watch?v=lJz0NmIah8I"]YouTube- Tangled - Trailer[/ame]

December 17th, 2010
Synopsis:
Sam Flynn (Hedlund), a rebellious 27-year-old, is haunted by the mysterious disappearance of his father Kevin Flynn (Bridges), a man once known as the world's leading video-game developer. When Sam investigates a strange signal sent from the old Flynn's Arcade -- a signal that could only come from his father-- he finds himself pulled into a digital world where Kevin has been trapped for 20 years. With the help of the fearless warrior Quorra (Wilde), father and son embark on a life-or-death journey across a cyber universe -- a universe created by Kevin himself that has become far more advanced with vehicles, weapons, landscapes and a ruthless villain who will stop at nothing to prevent their escape.
Website
[ame="http://www.youtube.com/watch?v=IhAao_Wa0C8&feature=fvst"]
YouTube- 'Tron Legacy' Trailer HD
[/ame]
2011
Mars Needs Moms
March 11th, 2010

April 22nd, 2011
Website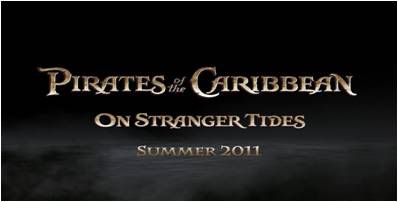 Friday, May 20th 2011
Synopsis:
In this action-packed tale of truth, betrayal, youth and demise, Captain Jack Sparrow crosses paths with a woman from his past (Penelope Cruz), and he's not sure if it's love--or if she's a ruthless con artist who's using him to find the fabled Fountain of Youth. When she forces him aboard the Queen Anne's Revenge, the ship of the formidable pirate Blackbeard (Ian McShane), Jack finds himself on an unexpected adventure in which he doesn't know who to fear more: Blackbeard or the woman from his past.
Status:
Currently FIlming
What we know (courtesy of slashfilm.com)
- Rob Marshall directs a Terry Rossio and Ted Elliott script. The shoot, in 3D starts later this month in Hawaii.
- Johnny Depp and Geoffrey Rush will return
- The film is partly base on the novel On Stranger Tides by Tim Powers. The novel has the fountain of youth as a core plot point; of the novel Rossio Said "we wanted to do a story about Blackbeard and the Fountain of Youth, and Tim Powers wrote a book about Blackbeard and the Fountain of Youth… it just turns out that to do that story you would need that book."
- Stephen Graham plays "Scram, a Machiavellian pirate," who'll be "a sidekick to Johnny Depp's Captain Jack Sparrow."
- Ian McShane is the pirate Edward Teach, aka Blackbeard, and Penelope Cruz is his daughter, a foil for Sparrow.
- Smaller returning characters are Kevin McNally's Joshamee Gibbs, and Greg Ellis' Theodore Groves. Keith Richards has been said to be returning, and there have been rumors that Mick Jagger would show up, too.
Friday, June 24th 2011
Winnie The Pooh
July 15th, 2011
The Greatest Muppet Movie Ever Made
December 25th, 2011
National Treasure 3 (TBD)
Frankenweenie (TBD)
Marvel Studios 2011
Thor
Friday, May 6th 2011
Captain America: The First Avenger
July 22nd, 2011
Dreamworks 2011
I am Number Four
February 18th, 2011
War Horse
August 10th, 2011
Real Steel
November 18th, 2011
2012
John Carter of Mars
Brave
June 15th, 2010
Monsters Inc 2
November 16th 2012
In Development
Jungle Cruise Movie
Reboot Ralph
Tron Sequel
The Lone Ranger
What we know
:
Produced by Jerry Bruckheimer. Written by Ted Elliot and Terry Rossio of pirates fame.
Johnny Depp is tentatively signed on to be playing Tonto.
Oz, The Great and Powerful
What we know:
- Sam Raimi will direct a script by Mitchell Kapner. The project will film in 3D.
- Robert Downey Jr. is attached to star as the Wizard of Oz
- Film takes the idea that the Wizard is also transported to Oz from Kansas, and details how he came to be the power seen in
The Wizard of Oz
.
Enchanted 2
The Black Hole
Maleficent
What we know:
- Script by Linda Woolverton. Rumored to be directed by Tim Burton and starring Angelina Jolie.
Cinderella
Unique
Light Speed
Tomorrowland
Released:

June 18th, 2010
Synopsis: Woody, Buzz and the whole gang are back. As their owner Andy prepares to depart for college, his loyal toys find themselves in daycare where untamed tots with their sticky little fingers do not play nice. So, it's all for one and one for all as they join Barbie's counterpart Ken, a thespian hedgehog named Mr. Pricklepants and a pink, strawberry-scented teddy bear called Lots-o'-Huggin' Bear to plan their great escape.
Website
[ame="http://www.youtube.com/watch?v=v_FfHA5whXc"]YouTube- Toy Story 3 - Official Trailer [HD][/ame]