There are very few films of my early childhood that I can remember well, and fewer still that retain a special spot in my heart. Of those, one that stands out is Winnie the Pooh. For many years of my youth, Pooh and his melancholy friend Eeyore held court atop the spare pillow on my bed. One day, Eeyore's tail went missing. I tied a shoelace to his rump and pretended that all was well. To this day, I wonder about my beloved pals and where they might have ended up.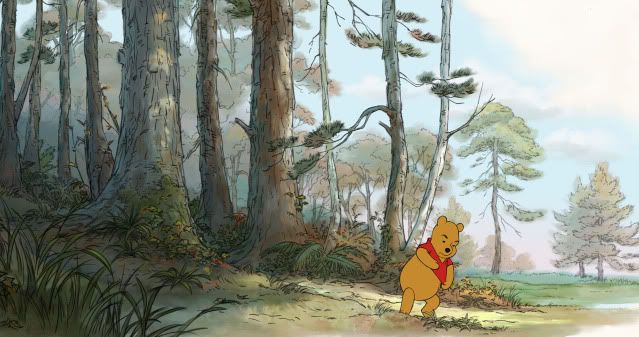 When I heard that Disney was preparing to return Winnie the Pooh to the big screen, I was worried. Would they try to do it with CGI or puppets? Would they forever ruin the fond memories that I had of my dear friends? When the first trailer hit the air, I knew that Disney had taken the golden path with this film.

The all new tale is
Inspired by five stories from A.A. Milne's books and will thankfully be animated in the classic hand-drawn style. "Winnie the Pooh" reunites us and introduces a whole new generation to the hunny-loving, philosophical bear and his friends Eeyore, Tigger, Rabbit, Piglet and Owl in a quest to save Christopher Robin from an imaginary culprit. And I'm told that, just like my own Eeyore, the film will explore the loss of Eeyore's tail. I cried just a little bit when I heard that. So many memories.

The expected release date is July 15, 2011.


Narrator: John CleeseVoice Cast: Jim Cummings, Craig Ferguson, Tom Kenny, Travis Oates, Bud Luckey

Directors: Stephen Anderson, Don Hall
Producer: Peter Del Vecho
Score Composer: Henry Jackman
Lyrics by: Bobby Lopez , Kristen Lopez

This will be the first big-screen Pooh adventure from Disney animation in more than 35 years.
A.A. Milne (1882-1956), wrote just two books and several poems about Winnie the Pooh and Christopher Robin (named after Milne's son). The books are actually collections of stories, five of which were used as inspiration in the new film. Filmmakers visited Ashdown Forest where Milne wrote the books and where the real Christopher Robin spent his summer vacations.
Tony Award-winning songwriter Bobby Lopez, and his wife Kristen, wrote the seven new songs for Pooh and his pals,
including "A Pooh Bear Takes Care of His Tummy," "A Very Important Thing To Do," "Everything Is Honey" and "The Winner Song."

The video trailer for the film is charming and I'm really looking forward to seeing my old friends again:

So far, so good. I'll try to keep this thread updated with new photos and info as they become available. Please chime in with your own thoughts about the film and any info you might find.

-Dusty