A movie is coming out in August that is anticipated to be SO BAD that it has already been building word of mouth momentum as one of the worst films ever made! It is called...
SNAKES
ON A
PLANE
Yes you heard me. Snakes On A PLANE!
Don't believe me?
http://www.imdb.com/title/tt0417148/
http://www.blackfilm.com/20050819/fe...onaplane.shtml
http://www.movieweb.com/movies/film/05/3005/summary.php
It is a film starring Samuel L. Jackson in which an assasin sets deadly snakes loose on a plane in an attempt to kill a passenger who is a witness in protective custody. Already the film's title was tinkered with, (what you don't like it?) but star, Jackson, would not have it. He claimed that one of the biggest reasons he signed on to the project was the name . Funny thing is, he might be on to something.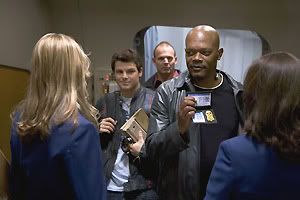 Already the film has ganied a notorious reputation and is being anticipated as one of the worst films in the history of cinema. Normally that would not be something to be proud of, much less brag about. But in this age of the global village connected by all sorts of media, including the internet, cult status can develop faster than before. Sometimes even ahead of the curve.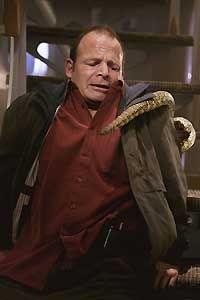 Take, for instance, the first movie to really build cult status ahead of release. The Blair Witch Project was made for a paultry 700,000. Artisan went to great lengths to market this film as an actual documentary by using the internet as a tool to promote the search for the "missing" stars of the film. This paid off in a big way, and the film ended up grossing well over 100 million. A pretty good return.
The public has also responded to "Snakes on a Plane" with their own publicity which is something no marketing team could ever think to achieve, or could they? Some "fans", in anticipation of this film, have made
comics, T-shirts,
, posters, and even trailers to this yet-to-be-released film with a name SO BAD that it's got to be good.
The qustion is this: Is all this publicity a huge conspiracy to build anticipation for a film that would otherwise fizzle in the modern quick-turnaround release cycle or is this film really that bad? We will find out in August when the movie is set to be released.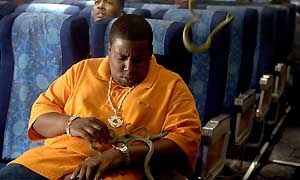 In the mean time, here I am, Fishbulb. A tool of the subversive marketing blitz that is.....
SNAKES
ON A
PLANE
See you at the movies!