Dream On Silly Dreamer
is a documentary that tells the story of how The Walt Disney Company decimated its traditional animation department. Since it's 2005 premier, Dreamer has appeared at numerous showings, film festivals and schools across the country— including The Alex Theater in California and the Florida Film Festival, which gave many Mice Chatters the opportunity to view it. On February 14, 2006 Dream On Silly Dreamer premiered on DVD giving anyone and everyone worldwide the opportunity to view this award winning film. Mice Chat News Member, BigPigletFan was excited to have the opportunity to give Mice Chat an unique insight on this documentary and interview the Dreamer guys: Director, Dan Lund and Producer, Tony West.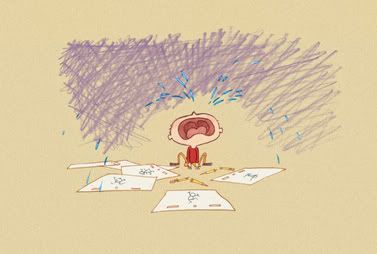 Original artwork - Westlund Productions, Inc. - ©2004 Dan Lund & Tony West
In 2002, animators were told their services were no longer needed. As the animation trends changed, Disney simply let go of it's animation team that years prior created Disney as not only an animation studio but also as pioneer in the industry. Dan Lund, in the midst of it all, paused, picked up his camera, and documented the major change in Disney history as it occurred. "I was going through so much emotional and financial stuff" Dan said, "but in all honesty working with Tony was the best part." As a team, Dan and Tony were able to complete this film to give everyone an amazing insight into what happened.
Once Upon A Time...
Tony and Dan grew up as young dreamers who wanted to draw. Fortunately for these two they were able to start with Disney in 1989. "
I had always wanted to work for Disney" Tony said, "because I was a huge fan of the parks and movies

and I thought it would be the absolute coolest job in the world. And I was right!"
Until...
On March 25, 2002, more than 200 Disney artists working at the studio's legendary Feature Animation department in Burbank, California, were told that their services were no longer needed by the company. It took only one uncomfortable gathering with the president of Feature Animation Thomas Schumacher, now dubbed "The Tom Meeting,"to kill 75 years of a beloved animated tradition. Doors were closed for good and in total nearly 1,300 skilled artists and craftsmen were fired. The company best known for its handcrafted animated features no longer wanted artists to draw for them.
Although this was an emotional time for Disney artists, craftsmen, and fans worldwide, a couple of individuals were able to take the time to stop and share their experiences. Dream On Silly Dreamer is an animated documentary but is also composed of testimonials from different individuals shortly after "The Tom Meeting" about their thoughts, feelings, and reflections of working with Disney.
Tony shared that everything didn't happen on one day as, "the

two years leading up the that awful day were not so great either." Artists were already face with significant pay cuts, frozen pay or both with some cuts as high at 35%. When "the layoffs happened in Burbank and we, in Florida, were told that we were going to be the 2D studio for the company but nobody really

bought it." In this time where "morale was nearing an all time low," any future projects for the studio as it once was all seemed quite skeptical. Overall "the crew felt betrayed, lied to and insulted."
Original artwork - Westlund Productions, Inc. - ©2004 Dan Lund & Tony West
Dan agreed, "I couldn't believe it. It seemed like some sort of natural disaster and that the government was going to come in and fix. You can't simply tear down an old building if it's deemed historic, and I thought we were like that."
A Ray of Hope
The filmmakers' first intent with everything was that they wanted to "document the events that lead to the death of traditional animation at Disney" Tony said. "But shortly after the layoffs were announced, something even more ridiculous and unbelievable happened that gave Dreamer somewhat of a new purpose."
As press reports continued to be quite vague and false, "it was then that we felt there was a real purpose to or film. If Disney didn't want to tell what had really happened to all of the traditional artists then it was up to the artists to tell the world the truth."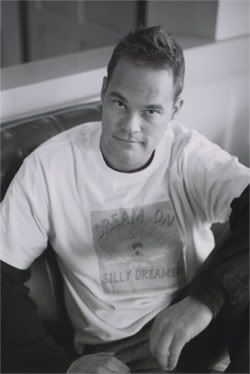 Director Dan Lund


©2004 Dan Lund & Tony West
Dream On Silly Dreamer
has won two awards, an Award of Merit from the Chris Awards (a film festival in Columbus, Ohio) and a special Annie Award of Merit. Although both awards are great honors, the Annie is the equivalent to the Academy Awards for animation. As prestigious as they are, Dan said, "I think the best award has been from our audiences who come out in droves to support the film and love what it stands for."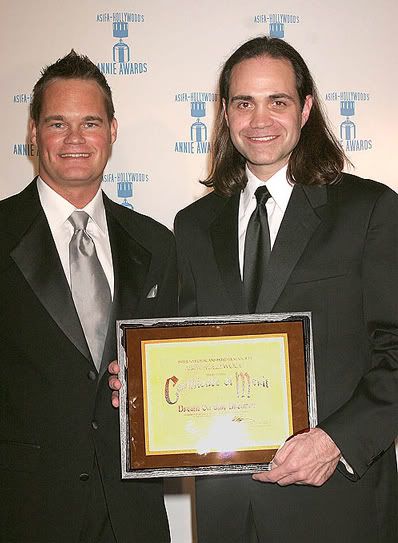 Director Dan Lund (left) and Producer Tony West (right) with their Annie Award
©2004 Dan Lund & Tony West
Happily Ever After?
While Dan wants to be "the guy who brings back classic musical fairytale animation for families," they both would love to see animation return to its former glory.Tony said, "The whole 2D/3D thing is silly anyway" and gives this analogy. "It would be like gong to an art school and telling the students that because of Photoshop, oil painting was no longer of any importance. Animation is an art form that knows many techniques, each as viable and important as the other. We need digital films just as much as stop motion or cell animation or cut paper or clay or sand. Each has it's own inherent beauty."
As far as Disney's animation future is concerned both Dreamers agree that Disney should do their own thing. Dan suggests they "do what they do best. Not to be hip or trendy, but to make long-lasting heartfelt films that never go out of Vogue." Tony wishes Disney's animation could "lead again, not follow" and "push the art form to its limits and then push it some more."
As for you fellow Dreamers out there here's some advice from Tony. "Don't limit yourself to any one tool or method. Be versatile and never stop learning. Feed your creativity and you will flourish."


Dream On Silly Dreamer
and Mice Chat
The buzz on Mice Chat is quite positive for this film. Fellow Mice Chat members have been able to view this film shared these testimonials:
Tom Chaney and his wife saw the film this past summer in Pasadena. He shared, "This is an awesome film. If you love Disney... you MUST see it. That's all there is to it. This is REQUIRED viewing."
Member Lafitte recently purchased the DVD "The extended ("super sized") scenes are well worth watching." The Mice Chatter continued, "This is such an interesting and important story, from both an artistic and business standpoint, for hardcore Disney fans and those just generally interested in art, media, and entertainment. I highly recommend people see this film."
Original artwork - Westlund Productions, Inc. - ©2004 Dan Lund & Tony West
As an animation enthusiast and fellow MiceChatter, it has been my delight to share with you the Dreamer story, as well as my interview with the key filmmakers. Although I have learned a lot in the past year about the decline of traditional Disney animation, I still learned more through this interview. As a Disney fan it breaks my heart to learn what happened, especially in those past few years to create such a major change in the animation world. I want to share the link to their web site,
www.DreamOnSillyDreamer.com
where I hope you will view the trailer, read more, and purchase this wonderful film. All in all, we're dreamers at heart.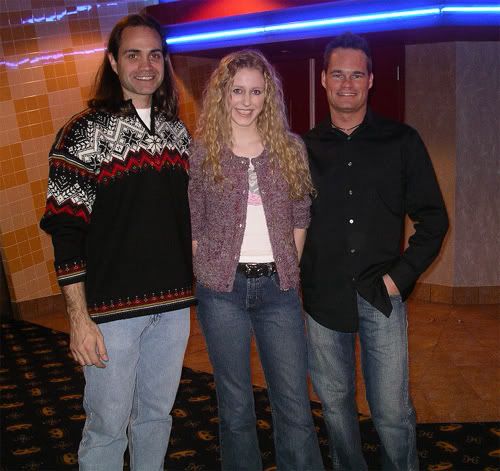 Producer Tony West (left)
, BigPigletFan, and
Director Dan Lund (right)
at the Minneapolis Screening in 2005

©2004 Dan Lund & Tony West