So, today I finally made it out to the National Museum of the United States Airforce in Dayton, OH to see the Disney Pins on Wings exhibit. Unlike the Disneyland exhibit at the Henry Ford Museum, neither the museum nor Disney made much of an effort to let people know that this exhibit was even there. In fact, the website barely even has mention of it -- you'll need to search through the press releases to find *anything* on it. Perhaps it was due to the exhibit and the museum being completely free, they didn't feel the need to put out an effort to advertise it.
About the exhibit: This is an exhibit about a part of Disney history that I love: Disney's contributions to the war efforts. It's 90% art show, the remaining being a couple of jackets, some pieces of noses, and a set of unofficial ceramics... more later. I managed to capture nearly the entire exhibit on film, so there's a lot of pictures here.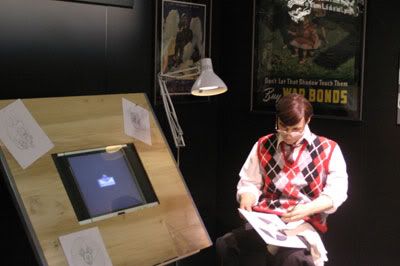 Animator designing insignia. These mannequins are a museum staple. A video about the Disney connection to insignia plays on the drawing board.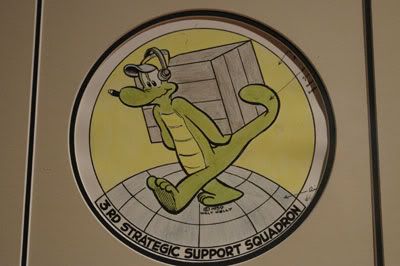 An example of non-Disney work used in insignia. This is Albert from Walt Kelly's Pogo, dated 1959. Walt Kelly, I believe, was still working as an animator at Disney during the war.



The only other non-Disney piece in the collection. Made by Warner Bros., depicts the baby bear from Goldilocks and the Three Bears.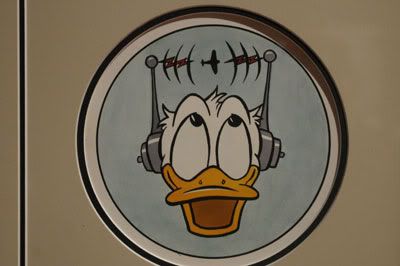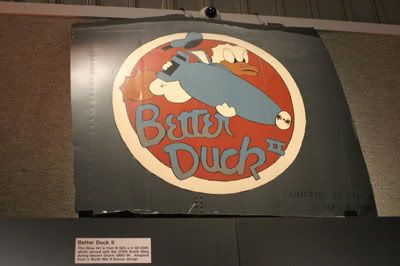 (sorry about the blur... bad lighting at this and a couple other points made for a hard photo to do)



(This one is on permanent display at the museum... it was removed from another case for this exhibit and will still be at the museum after the exhibit is done.)


To be continued...