Yes, this is from 'Swordfish' but who cares!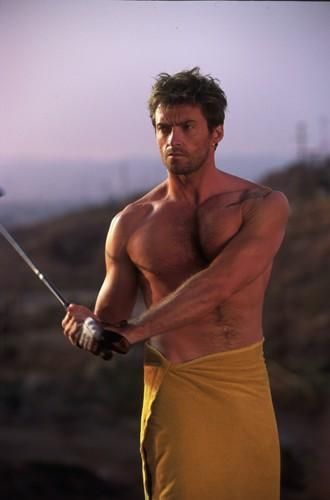 Hugh Jackman Takes Spin in Carousel
Source:

Variety
August 2, 2006
Fox 2000 is looking to remake the musical Carousel as a star vehicle for Hugh Jackman, who will produce with his Seed Productions partner John Palermo, reports Variety.

The original film, starring Gordon MacRae and Shirley Jones, was released in 1956 by Fox. A deal is being negotiated with the Rodgers & Hammerstein Organization for rights to use the music and lyrics the duo wrote for the 1945 stage musical.

Jackman would play Billy Bigelow (a role he sung in a 2002 Carnegie Hall concert to honor Rodgers & Hammerstein), a carnival barker whose temper puts him in the middle of a botched robbery and leads to his death. Stuck in purgatory, he's given one day to return and fix the problems he left behind -- namely a teenager who has a lot of his rebellious traits.

Jackman's next pic will be independently financed drama The Tourist, produced by Seed. He's also set to star with Nicole Kidman next year in Baz Luhrmann's untitled Fox musical and is developing the "X-Men" spinoff Wolverine.

Jackman can next be seen in Christopher Nolan's The Prestige and Darren Aronofsky's The Fountain.

http://comingsoon.net/news/movienews.php?id=15803