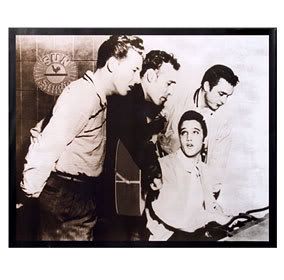 The SONY BMG Strategic Marketing Group to Release the 50th Anniversary Edition of the Legendary 'Million Dollar Quartet' Session
Featuring Elvis Presley, Carl Perkins, Jerry Lee Lewis and Johnny Cash
NEW YORK, Sept. 13 /PRNewswire/ -- On September 19, Sony BMG's Strategic Marketing Group will release the 50th Anniversary Edition of the famous Million Dollar Quartet session.
For the first time ever, the session will be released in its entirety and in the sequence in which it was originally recorded.
Detailed liner notes recount the history of this legendary recording session. In brief, on the afternoon of December 4, 1956, a coincidental gathering of Elvis Presley, Carl Perkins, Jerry Lee Lewis and Johnny Cash at the famous Sun Studio in Memphis Tennessee, resulted in the world's first superstar jam session and the making of the one and only Million Dollar Quartet.
This historic event, captured by the studio owner Sam Phillips, provides a refreshing 'fly-on-the-wall' glimpse of what music truly inspired some of the world's legendary artists.
Details of the legendary session were documented the next day in the local newspaper but the recorded audio session wasn't released to the public until 1990. Now, for the first time, the entire session including never before released songs is available on the new 50th Anniversary Edition of the Million Dollar Quartet.
It is hard to describe this miraculous recording without listening to it for oneself however perhaps Sam Philips described it best in a note that he attached to the newspaper article which he sent to local radio DJs; "We thought you might like to read first-hand about our little shindig -- it was a dilly!"
Website:
http://www.bmg.com/
http://sev.prnewswire.com/entertainm...3092006-1.html