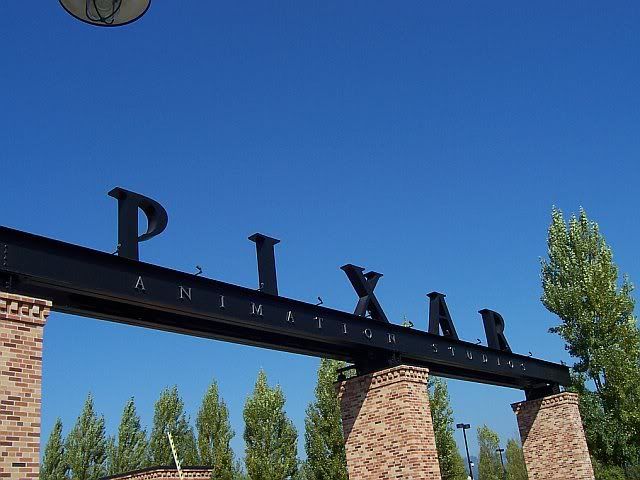 Once a year, Pixar studios opens its doors for tours though it's guarded walls thanks to the Emeryville Education Fund and its VP, Randy Nelson (one of the higher ups at Pixar University). I found out this event last year but I was unable to attend, but this year I was fortunate enough to make it to this sold out event that earned over $30,000 for the Emeryville School District.
The day started out beautiful and warm, without a cloud in the sky. Being that we've been having rain up here recently, it was quite a treat. I showed up at Pixar Studios at 10am (the event started at 11, but I thought I might be able to get in to explore a little before the event started. As it turns out, I'm glad I did). After passing through the guard station (first getting permission to bring my camera with me) and walking down the fruit tree lined driveway to the parking lot, I turned left and headed down the path to the main entrance to Pixar.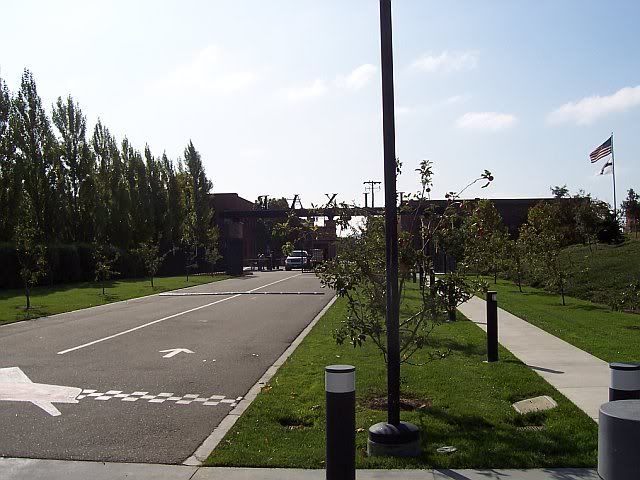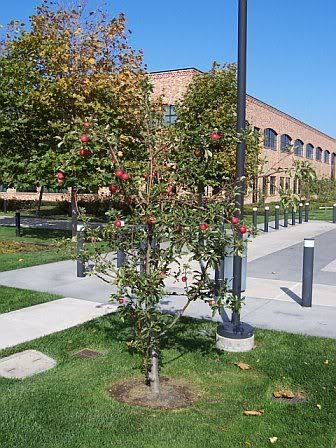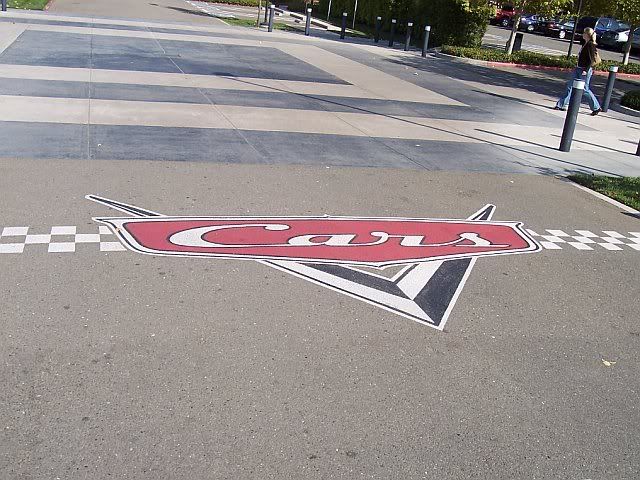 I had an hour to kill, so I thought I'd poke around the grounds surrounding the studios. As you can see from the pictures, the front and sides of Pixar are rose bushes, clumped together by colors.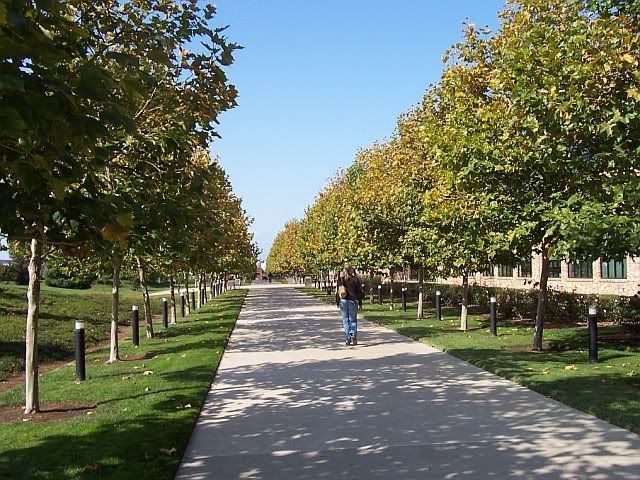 On the other side of the path, we see some of the many activities that Pixar offers their employees.
An outdoor amphitheater,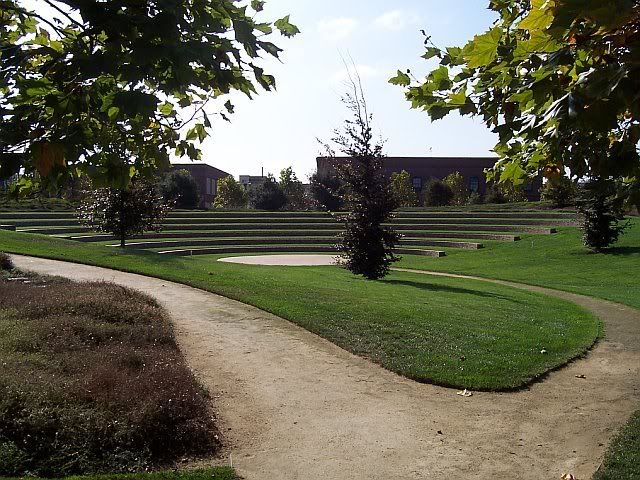 a regulation size soccer field,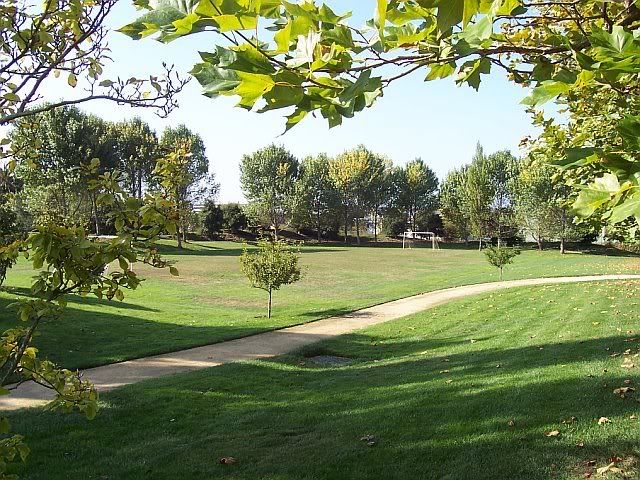 a swimming pool,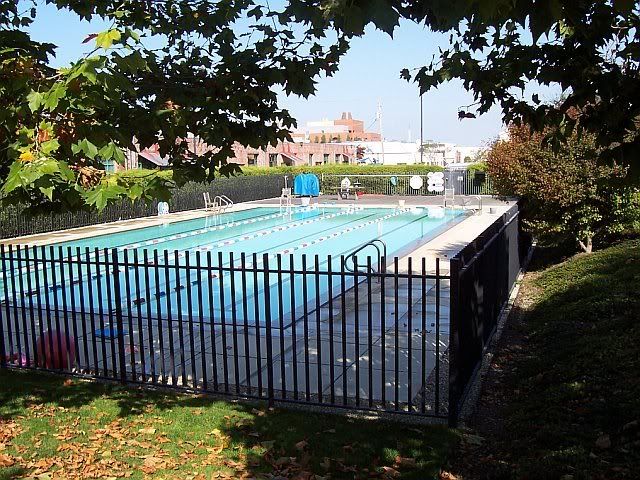 a beach volleyball setup,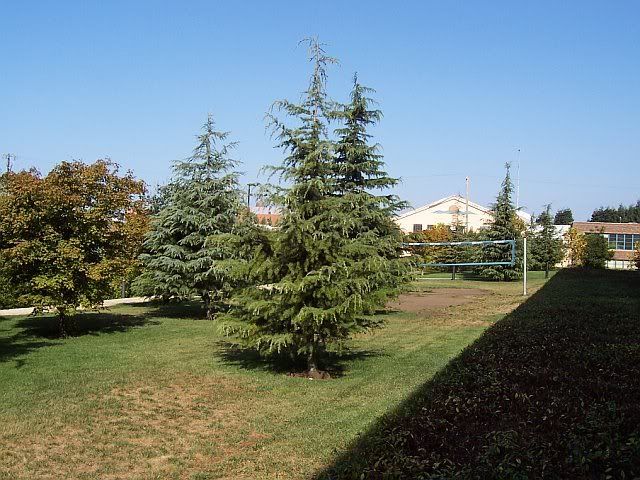 and a very large area to sit in the grass, under shade trees. It's good to be a Pixar employee.
After exploring the outside, I headed inside to register for my 2 classes. This year, Pixar was offering classes in Acting, Art, and Animation.
The handout that was given to everyone as they came in:
I decided upon acting (one of my side hobbies), and animation (they were showing sneak peaks of a short that has yet to be released). After wandering around the Atrium and taking everything in, I went upstairs to the eastern exhibit hall and found an entire wing dedicated to Pixar's newest film, 'Cars'.
The Atrium at Pixar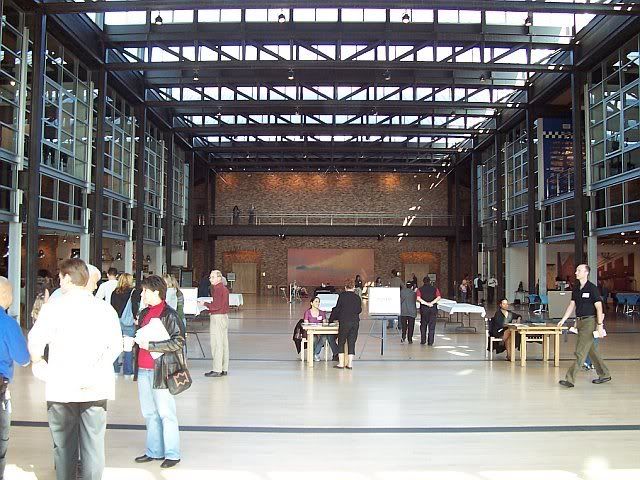 Looking to the right as you enter. There's a machine to get pressed pennys for a quarter, a display of Pixar items the employees can by, a racecar, a lounge area, and at the top, a 'model' of Bruce along with Dory and Marlin.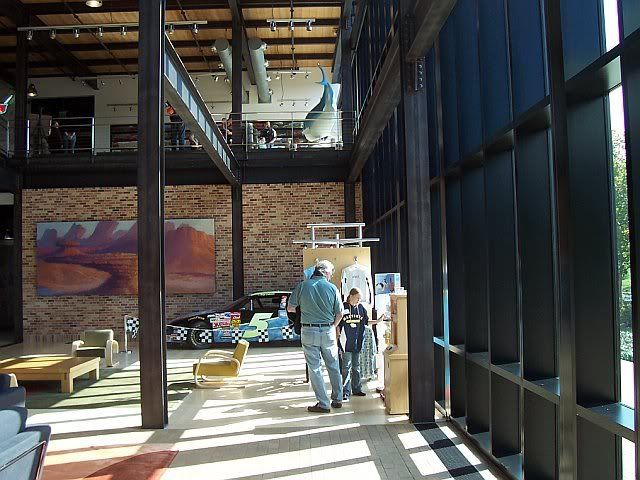 Looking to the right, you were greeted by Mike, Sully, and Luigi. The guard station is just to the right of the picture, another seating area, and at the top is the Incredibles exhibit.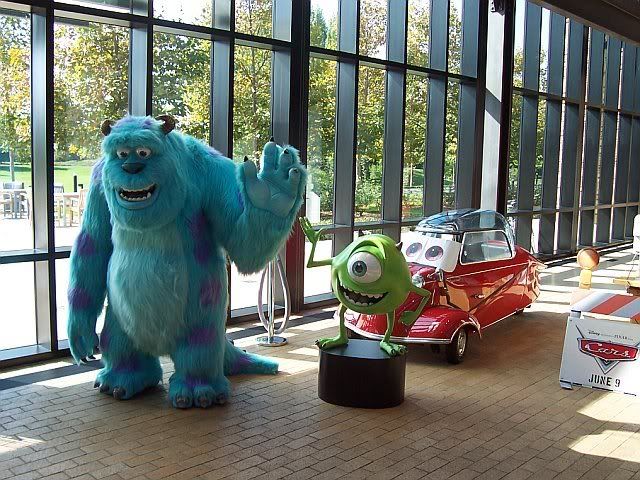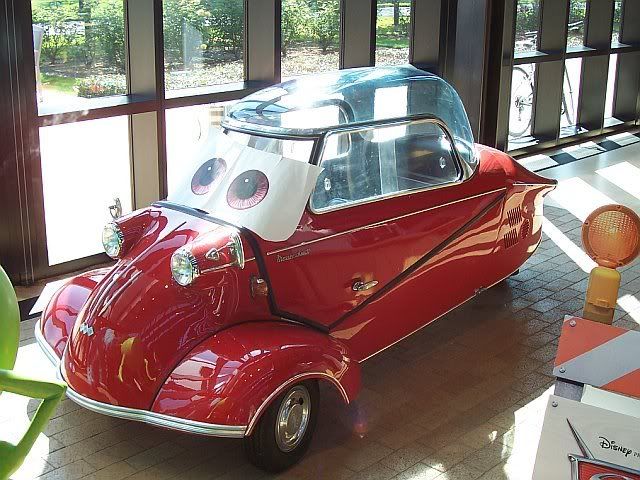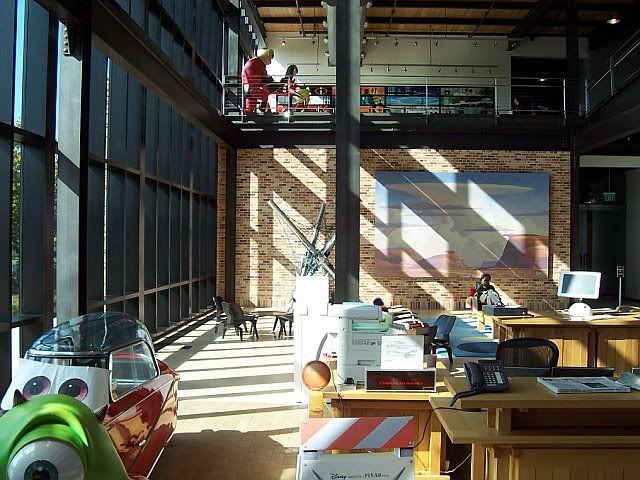 Notice the sign on the ladies bathroom. It's BoPeep from Toy Story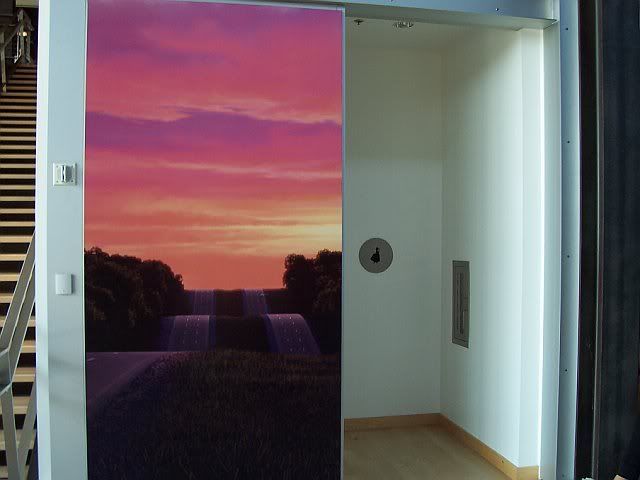 The Mens room had Woody on it, but I couldn't get a good picture of it.
The Pixar Lunch Room (they had what appears to be a dessert bar / coffee at the far end).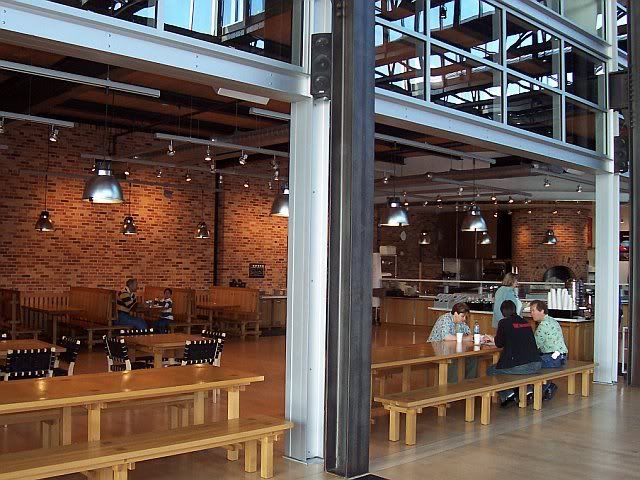 The Menu for the Pixar employees. They had everything from Sushi to pizza to burgers and everything in between.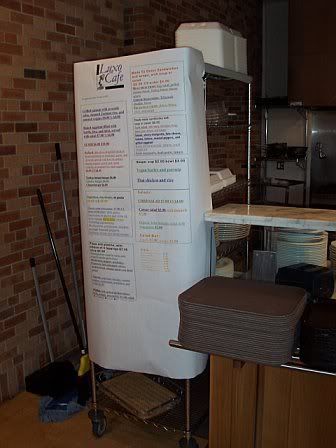 The theaters at the end of the Atrium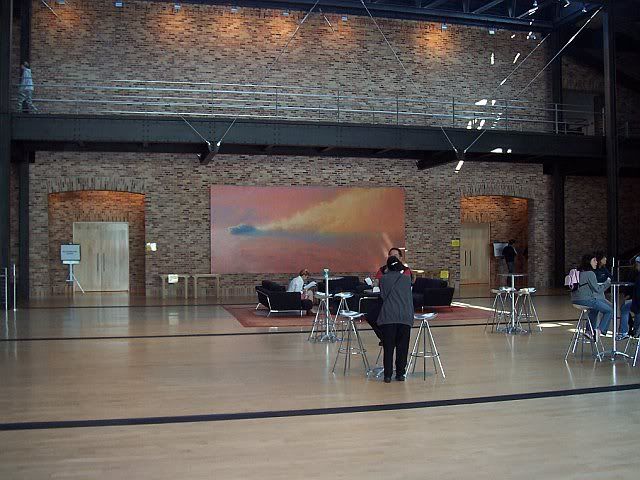 The coffee and tea room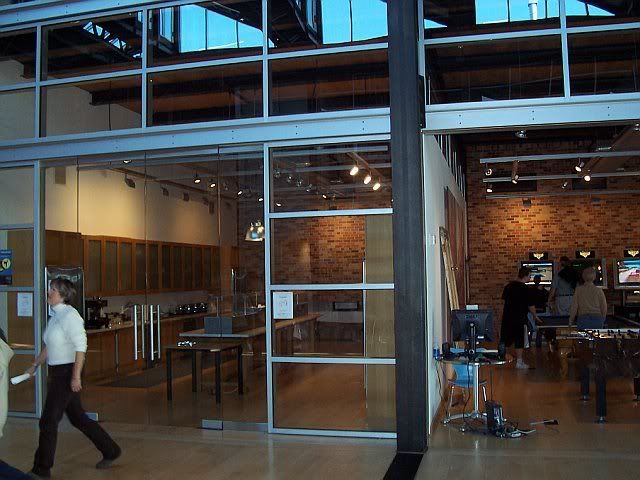 The break room, complete with 3 PS2's (with the game Cars on them), a pool table, 2 foosball tables, a air hockey table, and several computer stations with internet hookup.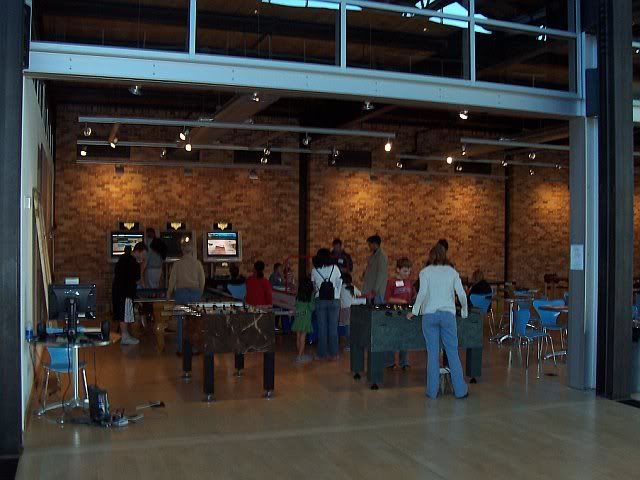 The Cars exhibit (which I could not take pictures in) had tons of stuff in it. A real car from Nascar, the models that were used by the animators, storyboards, character evolution, rough drawings, and some characters that were developed but never made it to the movie. While admiring one of the models, I was approached by 2 Pixar employees who had noticed my Nightmare Before Christmas jacket that I was wearing. As it turns out, one of them worked on Nightmare creating several of the models for it. The other one, it turns out, has a relative that's one of the event coordinators at the El Capitan Theater (I'm sorry that I can't use names, but they both asked not to be identified. Especially when they mentioned that something might be in the works soon with Pixar and Tim Burton). Both these individuals did several of the models for Cars and are both involved in Ratatouille, and were full of information. I wish I could tell you all the stuff they told me, but that would spoil all the great surprises that are coming.
After the Cars exhibit, I headed over to the western wing to where the acting class was, and found 3 more exhibits. Finding Nemo, The Incredibles, and Lucas Arts, a tribute to Pixar's beginnings. The Finding Nemo exhibit was by far my favorite. On display was the 122 page storyboard of Marlin and Dory getting swallowed by the whale (Marlin didn't even have a name at the time the board was done. He was referred to as 'Dad'). They also had drawings and rough sketches showing the evolution of the seagulls, the 8 different versions of Darla that were developed, some humorous drawings of some of the main characters, and the 6 scripts for Finding Nemo (initial script, 2nd script, 3rd script, 4th script, final script, and movie script). For The Incredibles, they had out several comic books that the animators had done along with several underground superhero comics, topped off with life-size models of the Parr family and a Incredibles mural. Outside the conference room where the acting class was, there were several prints and drawings from the old Lucas Art's game; Sam and Max hit the road. After this trip down memory lane, I headed into the acting class.
For those of you who like improv, you would have loved the acting class. The class was led by a member of the Pixar's improve team of Pixar University named Mike. He started us off by putting us into a circle (there were 50 of us in the class) and did an exercise, which he said, was common for the writers and actors to do. He made a sound, not a word, but a sound, and then sent that sound over to another person in the circle. That person would then have to imitate that sound back to the first person, then create a different sound and send it to someone else. This continued on for about 10 people, and then Mike made another sound and had someone else mimic it and send it to someone else. This deteriorated soon after into laughter and 'what the heck sound did you just make?'. This was followed by another improve exercise that took 3 people and had them create a story using one word each. I got teamed with a young teenager who was hung up on chocolate so our story never amounted to much other than a chocolate kid who lived in a chocolate factory (and no his name was not Willie or Charlie). We did 3 other improve exercises after that which made us all laugh, but according to Mike, this is normal at Pixar. 'When we are in the process of doing a movie, we will have the actors here read over a rough script first and improve several of the scenes. This will give the writers ideas on how the story and script should go. The exercises that we are doing today are the exact exercises that the actors and storywriters do. As you can tell we do get really silly here' Says Mike.
After acting class, I headed downstairs to the theater for the Animation class. There are 3 theaters at Pixar. One large one and 2 smaller ones where the director can sit along side the animators and give his input. There are no seats in the 2 smaller theaters, but very comfy couches and there are computer terminals at the back and a computer station that rises out of the floor in the middle of the theater. After getting settled in, we were welcomed by 2 Pixar staff members named Josh and Junyi who walked us through the techniques of modeling and shading, using 2 characters from the newest Pixar short, 'Lifted' which will be released with Ratatouille next year. I'm not going to give away any of the surprises here, but I will say that they got the idea for the characters from some bath gel. Josh showed us how the program that they use to shade the characters is a program called Maya, which can be downloaded from Autodesk.com. He then also showed us how they are able to make the characters move by using a program called… Excel. Finally he showed us the character of Bob Parr, and the 800 controls that were used to make him move and talk. When Pixar first started making short films, it was taking about 300 hours to create 1 frame of film. For 3 seconds of film, it usually took about 5 weeks of work, but the next man to come up, named Bill, had managed to write a program that took that time from 300 hours down to six minutes. This was done by having the computer fill in all the spaces between the grid points on the characters and sets, instead of having the animators do them all. Bill was a wealth of information showing us how they develop the computer models, how they add texture and color all by using Excel, and a program called Shake for lighting. He also told us why the short films that Pixar does are so important. Whenever they get an idea for a story and there is something that they aren't sure they know how to do yet, instead of putting 250+ people on a project and spend millions on something that they are unsure of, they will put 30 people on it and have them to create a short to see if it can be done. For Monsters Inc, for example, they were unsure if they could do Sully's hair, so they created a short to see if they could do hair. The result was For the Birds. They decided that since they could do the birds feathers, they could do hair. For the movie Cars, they weren't sure if they could capture the feeling of being on Route 66 in the southwest, so they created 'Boundin'. This is the short that can be found on the Incredibles DVD along with Jack-Jack Attack.. By this time we were way into our lunchtime, so we headed back out to the Atrium to a all you can eat pasta buffet.
Food that was served was appetizers, a Caesar salad, 4 kinds of toasted bread, ravioli, rigatoni, fruit salad, strawberries, a desert tray, and a beverage bar.
The Tables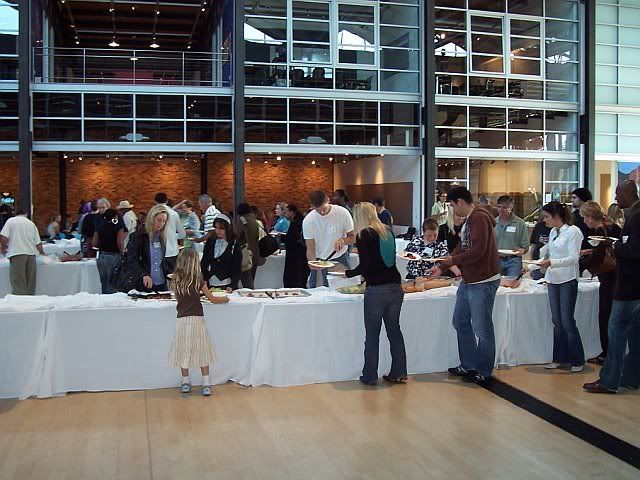 The lunchroom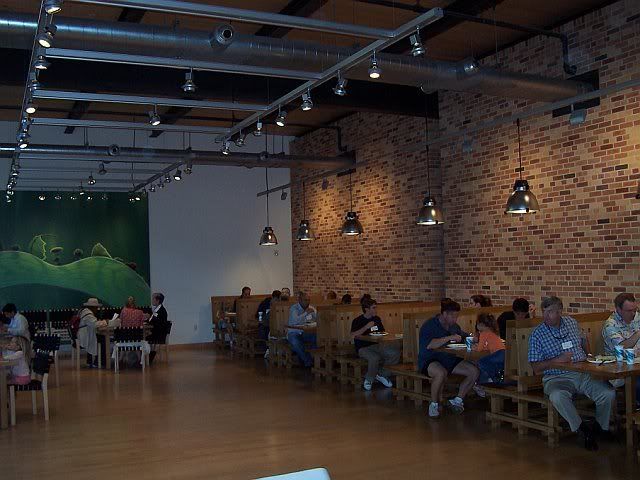 A sample of what was offered
During this time I was able to find some Pixar employees and ask them if they could say anything about Ratatouille and any rumors about Toy Story 3. Luckily the person I asked was an animator on Ratatouille, they said that everyone there who has seen it is saying that Ratatouille is the best thing that Pixar has done. Looks like we're in for a treat next year. When I asked about Toy Story 3, they just grinned and said 'At the end of Toy Story 2, Buzz and Woodie are talking about Andy growing up and what's going to happen when he outgrows playing with them. Doesn't that just scream for another movie to be made?'. Because we were late getting out of the animation class, we had 15 minutes to eat and get into the main theater to see the screenings of the collection of Pixar's shorts.
After a speech by the president of the EmeryEd Fund, and by Randy Nelson of Pixar, the lights in the theater dimmed to reveal the stars of the northern hemisphere done in LED lights on the ceiling (they even had shooting stars racing across the sky), and then we were treated to a screening of all of Pixar's shorts. Luxo Jr (1986), Red' Dream (1987), Tin Toy (1988, and the precursor to Toy Story), Knick Knack (1989), For The Birds (2000), Mike's New Car (2002), Boundin' (2003), Jack-Jack Attack (2005), One Man Band (2005), and 2 new shorts that will be released soon. Mater and the Ghostlight (to be released with the Cars DVD), and Lifted (to be released with Ratatouille) Again, I'm not going to ruin the fun and the surprise by telling you about these 2 shorts, but just about everyone in the theater was falling out of their chairs laughing at them.
After the movie was over, Pixar kind of ushered us out fairly quickly so I didn't get a chance to poke around some more or talk to any more employees. I'd like to thank all the people at Pixar and at the Emery Ed Fund for doing this and for allowing me to join them. You guys rock!!!