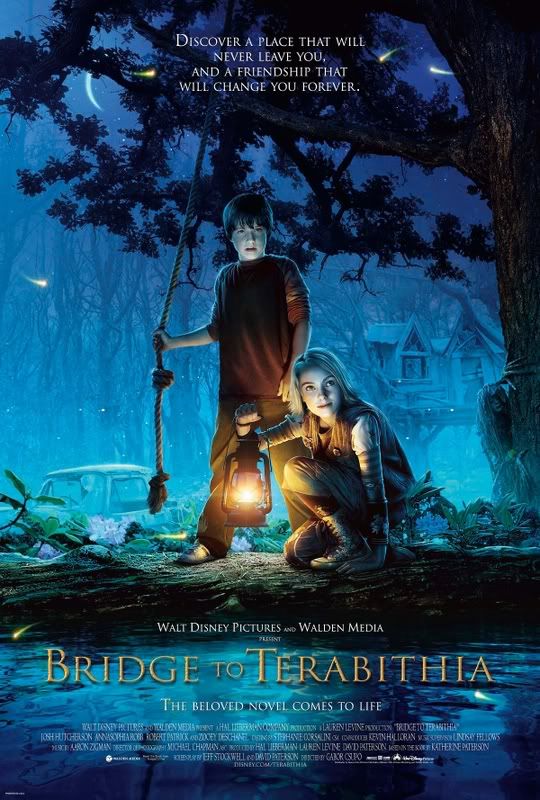 Home Entertainment Opportunity
Buena Vista Home Ent.
Summer 2007
Based on the Newbery Award-winning novel by Katherine Patterson published in 1977 and translated into over two-dozen languages to date, BRIDGE TO TERABITHIA tells the powerful story of an eleven-year-old boy whose life is changed forever when he befriends the class outsider - who happens to be a girl. Together Jess and Leslie create the world of Terabithia, an imaginary kingdom filled with giants and trolls and all manner of magical beings. While the real world of family and school may be filled with difficulties, in Terabithia they rule as King and Queen. By the movie's end, they will have to pull all the strength they can from the great legacy of Terabithia in order to cope with an unexpected tragedy.
Target:
kids 6-11, tweens, teens, adults, family
Full "Virtual sell-sheet" list:*
Promotional opportunities available in the following categories:

Acessories, automotive, beverages (non alcohol), camera & film, clothing & footwear, communications company, computer & software, delivery services company,financial services, gift & novelty, health & beauty, infant products company, internet/online retail company, office supplies comapny, pet supplies, qsr and casual dining chain, sporting good manufacturer, stationary/paper goods comany, travel related company

*added