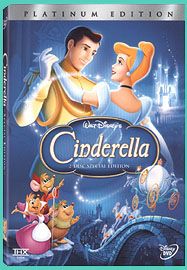 For The First Time
EVER on DVD -- October 4, 2005!
CINDERELLA
Two-Disc PLATINUM EDITION
DVD Debut Accompanied By A Magical Slate of Company-wide Activities
Dream Come True Including
All-New Bonus Features and Enhanced Picture and Sound
CINDERELLACINDERELLA
ESPN
CINDERELLA
activity will span beyond home
entertainment to bring the magic of Cinderella to life. This includes an unparalleled Disney Consumer
Products (DCP) partnership which will see the release of dozens of new products in all major retail
categories, including toys, apparel, electronics, fast moving consumer goods, stationery, home furnishings
and much more (from third quarter 2005, into the holidays and well into 2006).
Nearly 10 years in the Disney vault, and not released theatrically since 1987, the twelfth feature film to
come from The Walt Disney Company,
CINDERELLA
Alice in Wonderland
and
Peter Pan
CINDERELLA
Disc Contents/Bonus Materials
Disc One
Bonus Materials
sportsCinderella
CD
Disc Two
DELETED SCENES
BACKSTAGE DISNEY
Cinderellaall nine old men
worked on (others with the collaboration:
Alice in
Wonderland
and
Peter Pan
A fascinating all-new featurette giving insight into the creation of
Cinderella
In doing research for the
Cinderella
DVD, a rare treasure was unearthed in the Disney Archives -- an
envelope that had not been opened since 1949 in which there were photographs of a full set of
storyboards for a version of
Cinderella
that is different from the final film as we know it. In the
course of developing one of the world's most well-known fairy tales into an animated film, Walt and
his creative team explored many ideas that ultimately did not work. Join Don Hahn, the Producer of
Disney's
Beauty And The Beast
, on the journey to discover the
Cinderella
that
almost
was.
The Art of Mary Blair:
Cinderella
,
Alice in Wonderland
,
Three Caballeros
,
Saludos
Amigos
,
So Dear To My Heart
and many more.
To assist in the animation of
Cinderella
, Walt Disney had most of the scenes involving human
characters filmed using real actors, in costume. The storyboards for
Cinderella
1922 Cinderella Laugh-O-grams: Cinderella
Cinderella Art Galleries
(with Slide Show Option)
Exciting visual archives galleries include: Visual Development; Mary Blair Art; Character
Design of Cinderella, Fairy Godmother, Stepmother, Stepsisters, Jaq and Gus, Lucifer, The Prince
and Miscellaneous; Costume Design; Storyboard Art; Layout and Backgrounds; Live Action
Reference; Production Photos and Publicity/Merchandise
Theatrical Trailers
A fascinating look into how the film was presented to audiences through the years including: 1950
Original Release Trailer and Reissue Trailers from 1965, 1973, 1981 and two from 1987
GAMES AND ACTIVITIES
All-New Princess Gown Designer:Palace Designer:
No princess should live without her castlehis feature allows viewers to design their
own royal palace by choosing from a variety of historical designs including towers, flags, colors, and
more.
Dream Room Makeover:
Princess Pajama Jam
Where Dreams Begin
MUSIC AND MOREFilm Synopsis:STREET DATE: October 4, 2005
Suggested retail price:
$29.99 (2-disc DVD) $29.99 (VHS)
Feature running time:
Approximately 76 minutes
Rated:DVD aspect ratio:Sound:
All-New 5.1 Disney Enhanced Home Theater Mix
Restored Original Theatrical Soundtrack
Languages:
French and Spanish Language tracks
Walt Disney Home Entertainment is distributed by Buena Vista Home Entertainment, Inc., a recognized
industry leader. Buena Vista Home Entertainment, Inc. is the marketing, sales and distribution company
for Walt Disney, Touchstone, Hollywood Pictures, Miramax, Dimension and Buena Vista
videocassettes and DVDs.