The following information is from
http://pixaranimation.blogspot.com/
Cars DVD Exclusives
Exclusives are a fun, if not aggravating, part of new DVD releases. Disney/Pixar releases aren't exempt. So here's a small rundown of bonus gifts and exclusives that you receive when purchasing
Cars
at your local retailer or e-tailer:
1.
The Disney Store
had offered up lithographs with the
Cars
DVD pre-order. Since the film is being released on the 7th, the offer may or may not still be available. I'm not sure the prints are as nice as the
Finding Nemo
versions (I was disappointed by
The Incredibles
ones as well, but still decent enough to warrant picking up if you're a Pixar /
Cars
fan. Though I prefer the lithographs to be on white backgrounds, these aren't too bad. However, I do like the 'All-New 2006 Lineup' image featured inside the back of the Disney Store
Cars
lithograph portfolio.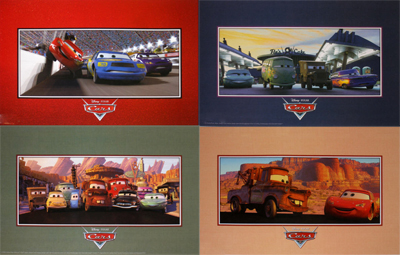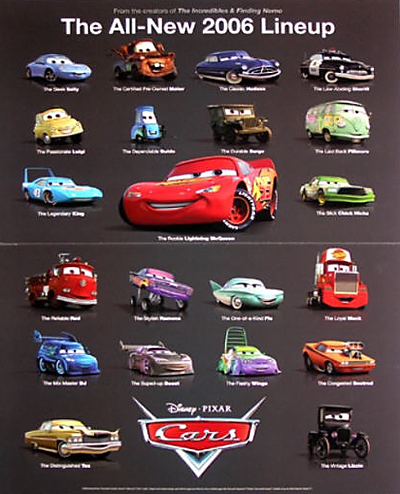 2.
Wal-Mart
presents the
Geared Up Bonus DVD
- A Music Road Trip with Rascal Flatts featuring:
The Making of "Life Is A Highway"
"Life Is A Highway" music video
Cars: The Making Of The Music
Under The Hood TV
episode
The Bonus DVD appears to be available for both Widescreen and Full Screen versions of the film. We're not sure if this is good in Canada (or elsewhere in the world) as well, but it's worth checking into as international stores have previously carried Bonus DVDs for other films.
3.
Future Shop (Canada)
is offering a steelbook DVD case with the
Cars
DVD purchase. This looks to be similar to the one offered for
The Incredibles
which was modeled after the Disney Treasures series. One bonus offer per customer.
4.
Best Buy (USA/Canada)
is offering an
exclusive lenticular lithograph
(in-store only - at least in Canada) and if you purchase the gift set, 4 die-cast cars as well. No confirmation as to the availability of the gift set offer in Canada.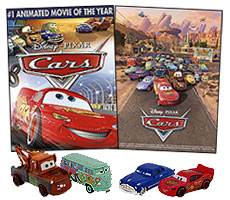 5.
Target (USA)
is
offering
2 versions: Basic version with collectible pin, and Deluxe Edition with Bonus "Rev'd Up" DVD. No word on content of the bonus disc. Check the Weekly Add section of the website to see the offer.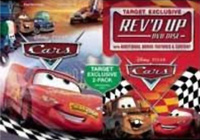 6.
Circuit City (USA)
is
offering
a download of
Susie, The Little Blue Coupe
, which was one of the inspirations behind
Cars
.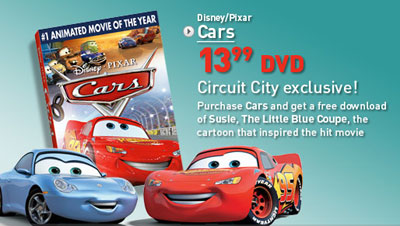 7.
Toys "R" Us
- Receive a $5.00 Gift Card (USA). Some sources say a
Cars
inflatable chair is also available with pre-order of the movie but we can't find the offer anywhere online.
8.
Zellers (Canada)
- Get a $10.00 NASCAR /
Cars
gift card when you purchase
Cars
using your HBC Credit Card.