EXCLUSIVE: George Michael Plans U.S. Tour
THURSDAY DECEMBER 14, 2006 01:00 PM EST
Photo by: Stephen Hird / Reuters / Landov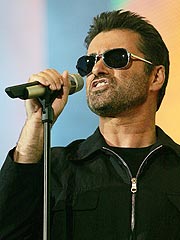 George Michael's New Year's resolution: Make a comeback.

A source close to the 43-year-old singer tells PEOPLE that the pop star will embark on his first U.S. tour in 15 years this spring.

In recent years, Michael has made more headlines with his run-ins with the law than with his music: In February he was arrested on suspicion of drug possession in London.

However, he recently finished a 16-city greatest-hits European tour (dubbed "25 Live") that was sold out and, by all accounts, scandal free. He's also polishing his image on Dec. 20 by performing a free London concert for nurses.
http://www.people.com/people/article...004260,00.html
I saw him at the
formerly
fabulous Forum on the "FAITH" tour, still ranks as one the best overall concert performances I've seen.
Hope he's still got it!