Bob Iger Delivers Keynote at the Consumer Electronics Show
BusinessWire 1/8/07
Bob Iger Delivers Keynote at the Consumer Electronics Show
LAS VEGAS--(BUSINESS WIRE)--The Walt Disney Company is committed to working with consumer electronics as it builds on its tradition of using the newest technology to create high-quality content, Bob Iger, president and CEO of Disney said today in a keynote address to the 2007 Consumer Electronics Show.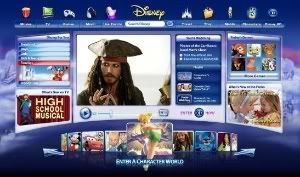 "We are witnessing an explosion of media and Disney is both reaping the benefits of that explosion and acting as a catalyst by taking a technology-friendly approach," said Iger, noting that the company was the first to offer movies and TV shows for download on iTunes last year.
"Our history of bringing our storytelling and our roster of characters to the frontiers of technology is unrivalled. Since the day Mickey dared to speak in a `talkie,' Disney has boldly taken its content to the cutting edge. Wherever the path of unfolding technologies and imaginative new platforms may lead, Disney will be there. Year in and year out, we are proud to bring our creative content to your innovative products."
Iger today unveiled the latest example of Disney's use of technology by giving the CES audience a first look at the newly redesigned and enhanced Disney.com Web site, which will launch later this month.
Full Story -
Bob Iger Delivers Keynote at the Consumer Electronics Show