MiceChat News - February 1, 2007
Disney Declares 2007 as the 'Year of Piglet'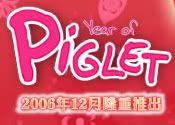 As China celebrates the Year of the Pig, there will be a new twist on it as Disney has declared it the "Year of the Piglet."
The marketing campaign began with the launch of a new postage stamp in honor of Piglet, Winnie-the-Pooh's best friend.
The

i

naugural
event took place on January 9th at the Shanghai Post Museum with 170 people in attendence that included celebrities, VIP, media, and, Post Office officials. This was the press launch for Piglet but also to showcase syngery between Disney and the People's Republic of China.

Stanley Cheung,
CEO of TWDC China
joined Mark Coleman, senior vice president, Global Stationery, China Post GM Mr. Rui and Shanghai Post's Deputy Director Mr. Yang Wen Xin as they officially brought in the Year of Piglet and to
inaugurate the stamp set. After speeches the group then unveiled the new stamp and the postmark on a Piglet postcard.

Piglet Synergy
Disney's partners such as
Walt Disney Internet Group, Disney Publishing and Walt Disney TV will help promote the Year of Piglet as well. Charity activities inspired by Piglet will promote Disney's China outreach program. The Piglet stamp will be featured in three upcoming issues of Pooh Magazine along with gift-with-purchase and enter-to-win promotions with Disney Publishing Worldwide.

Why choose Piglet - beyond the fact that he matches the animal in this Chinese New Year? Disney's market research has implied they should prioritize Piglet, who is a lesser character in other markets.
More Piglet can only be on the way.
For more information, visit Disney's China site: http://www.disney.com.cn/minisites/piglet/