Last Saturday I was able to go see the Star Wars exhibit at the California Science Center in LA. I met up with a few MC'ers and the PEZlings were there with the former Mrs. PEZZ. Star Wars geekdom really does overcome all!
When I got there, I couldn't help but notice this in the parking lot:
It's a charging station for the old EV1 electric cars. If you haven't seen the film
"Who Killed the Electric Car?"
- you should!
Outside, the airplane formerly known as Blackbird: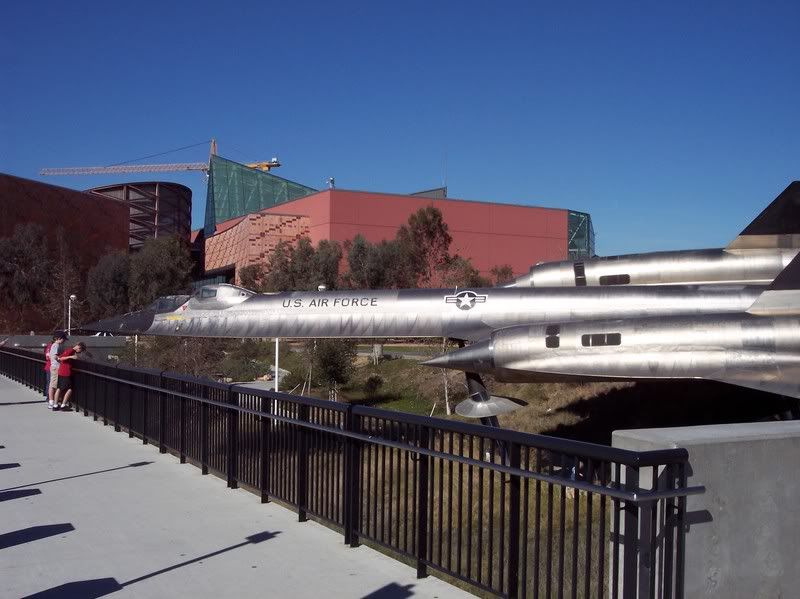 Now it looks more like Amidala's spaceship.
Big poster outside:
In the courtyard, looking straight up at the hanging ball thingies:
A little beefed-up security at the front door:
Here is the little flier - front and back:
Presented by Bose, so you KNOW it sounds good!
Waiting for the PEZlings to land, I had a chance to check out the store.
Merch Wars:
I love the Vader shirt that says "Who's Your Daddy?"
And I could not believe this one:
That's right, Sea Monkeys! These things caused such turmoil in my childhood!
All I can say is:
Brine Shrimp
The PEZlings showed up with their mom and this Stormtrooper quickly learned the real meaning of Attack of the Clones!
It was early, so we went straight into the exhibit:
Can I drive it?
Anakin and Obi-Wan: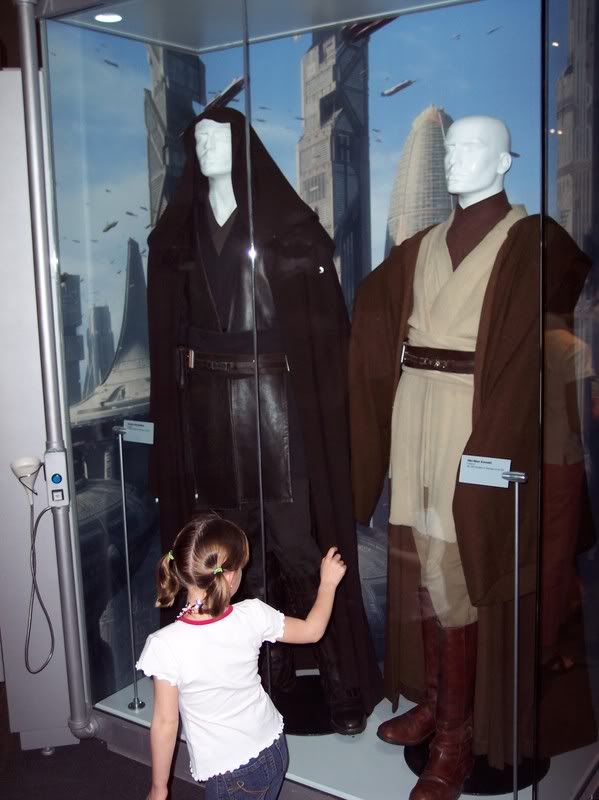 Just chillin' on Coruscant.
Yoda was there: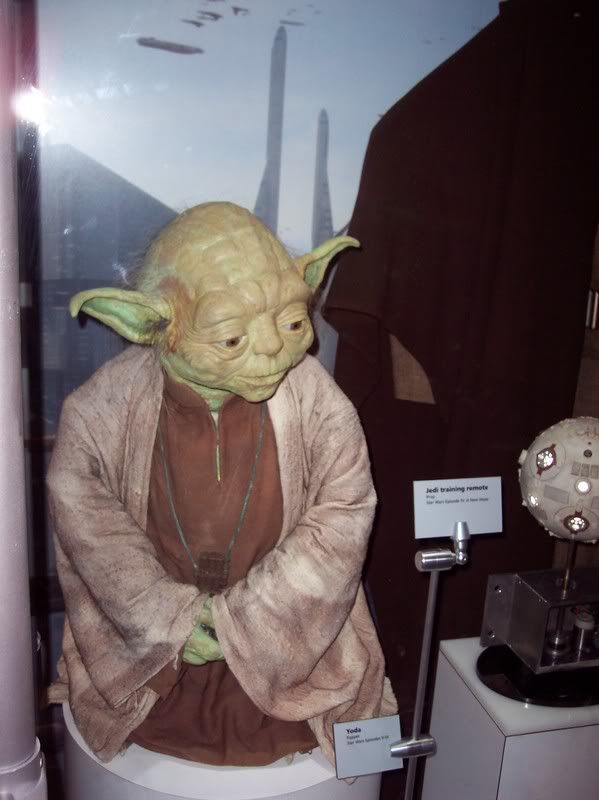 And you may recognize these two:
Chewie even brought along a couple relatives: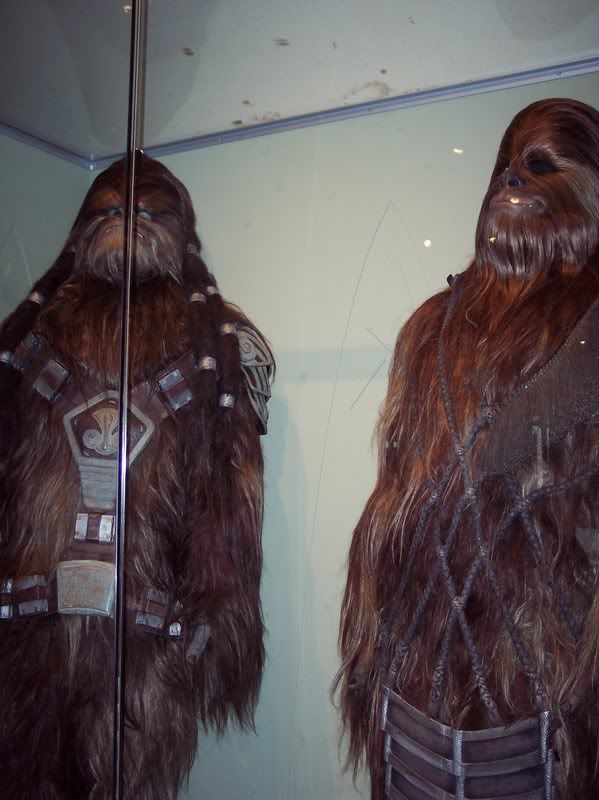 Leia and R2:
And the Frozen Section: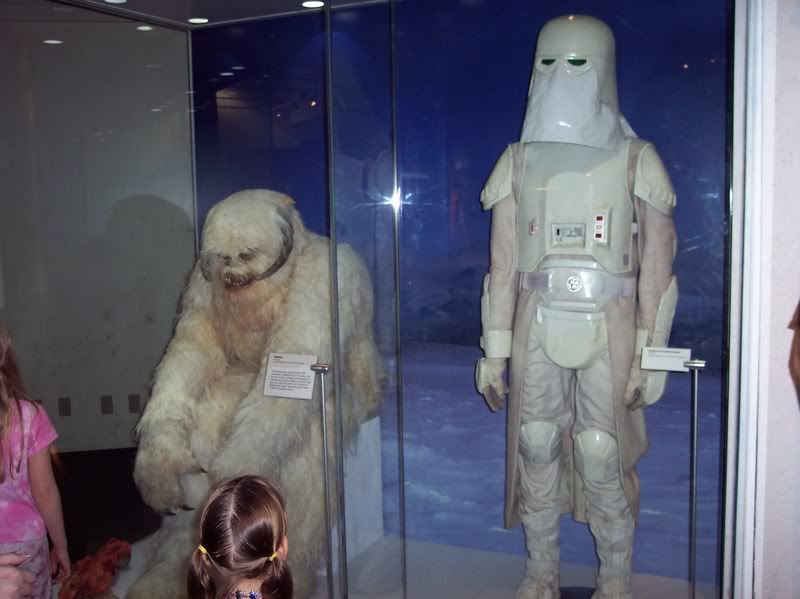 Mr. Vader made an appearance: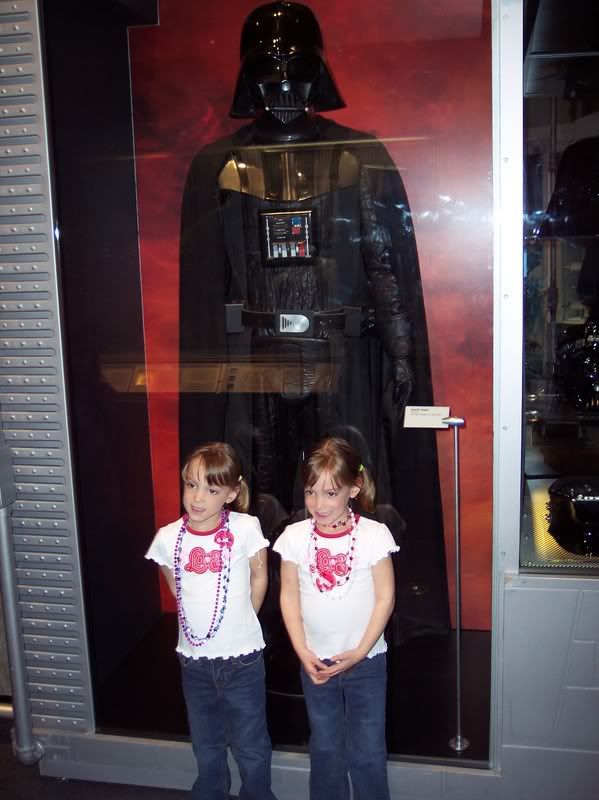 And his younger self tagged along: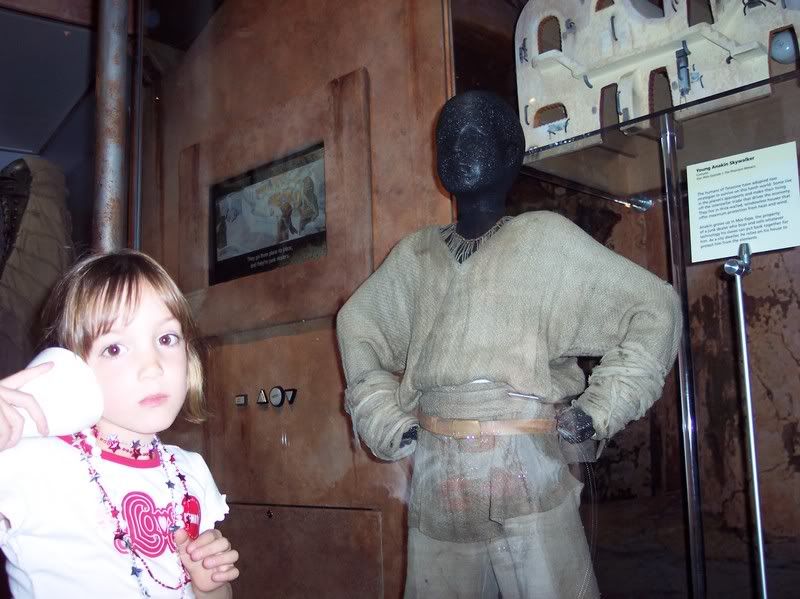 Tusken Raider and Raiderette:
That's why they're called Sand PEOPLE, people!
And their little buddies, the Jawas: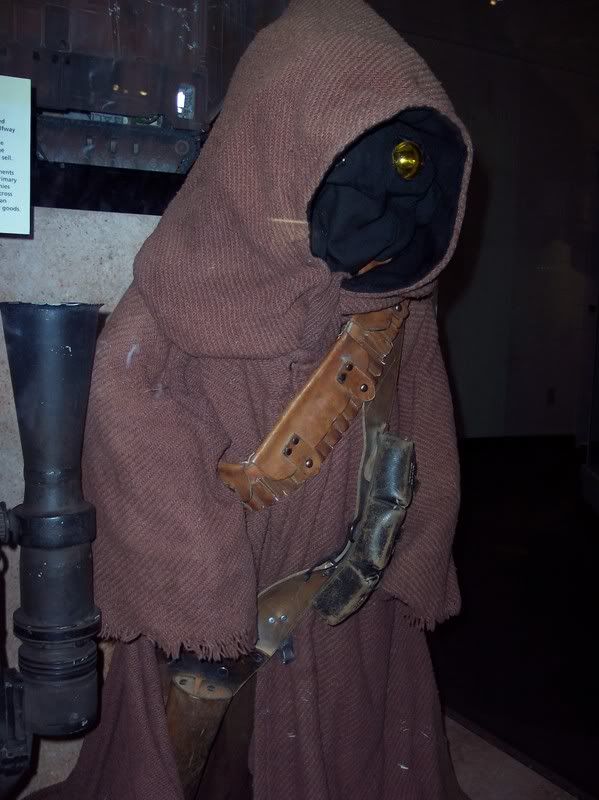 Then it was time to meet the Mice Chatters for the noon lunch meet.
Lost Boy, TikiRoomLiz and RangerSyl grub it up!
I had to get the PEZlings' luggage from their mom's car, so off we went through the Natural History Museum to get there. Some shots of things along the way:
Lovely courtyard with USC behind.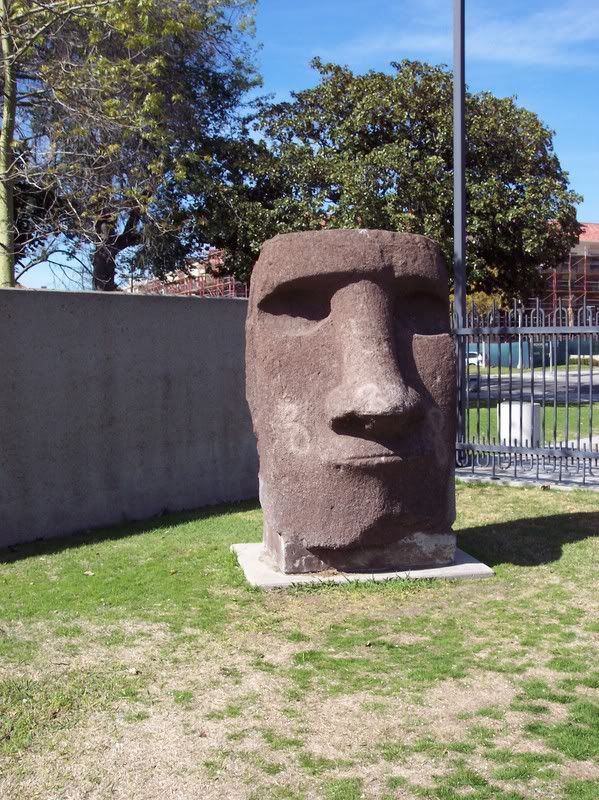 Gumgum?
Dinos!
The PEZlings and I then hiked back to the theater to see a rather old IMAX film about space shuttle missions and astronauts narrated by Leonard Nimoy.
Afterward, we met back up with the Chatters and headed up the circular walkway to the exhibit: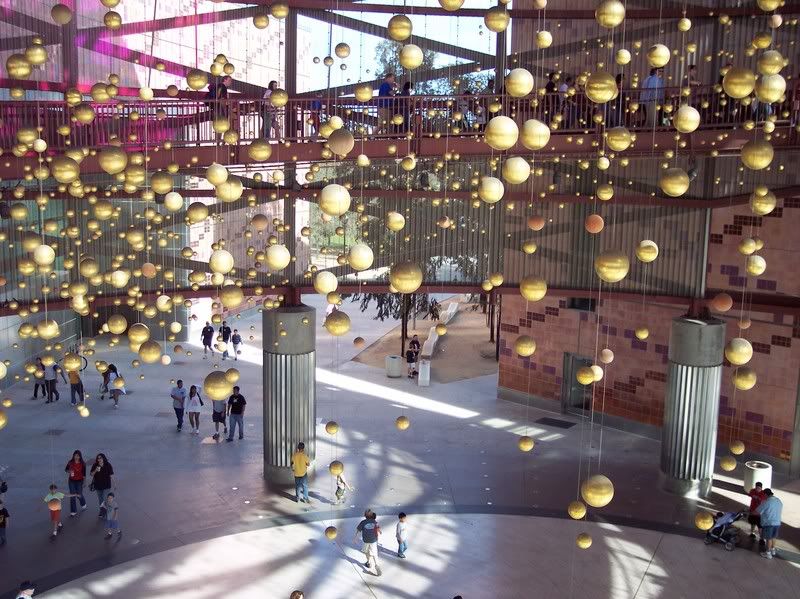 RangerSyl and Lost Boy lead the way:
Here is the back of Lost Boys shirt:
In front of the exhibit hall, cardboard photo-op:
A little detail on the Landspeeder: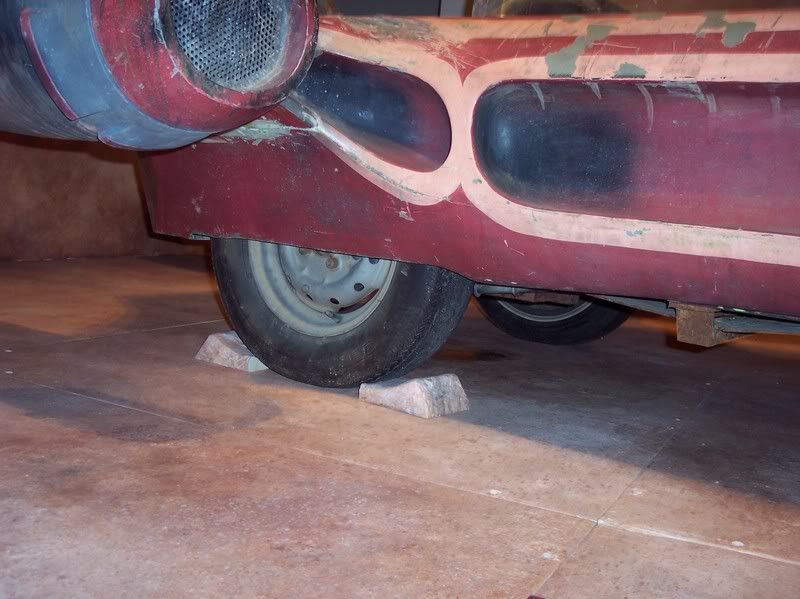 Make sure to kick those tires!
And you want space ships? We got space ships!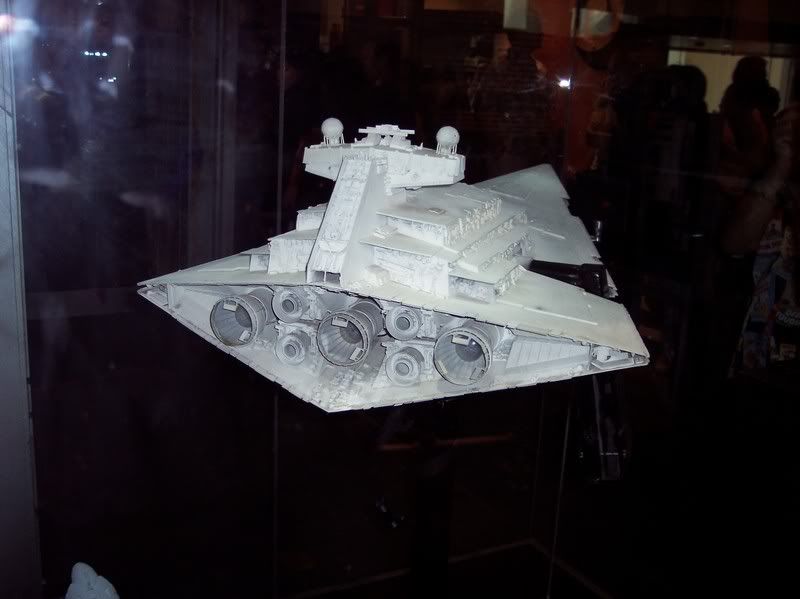 Star Destroyer
TIE Fighter
X-Wing!
Rebel Blockade Runner with small Millennium Falcon
And the big Millennium Falcon was too good for just one picture:
Or even two:
RangerSyl had to leave us at this point but she was very cool!
Imperial Walkers: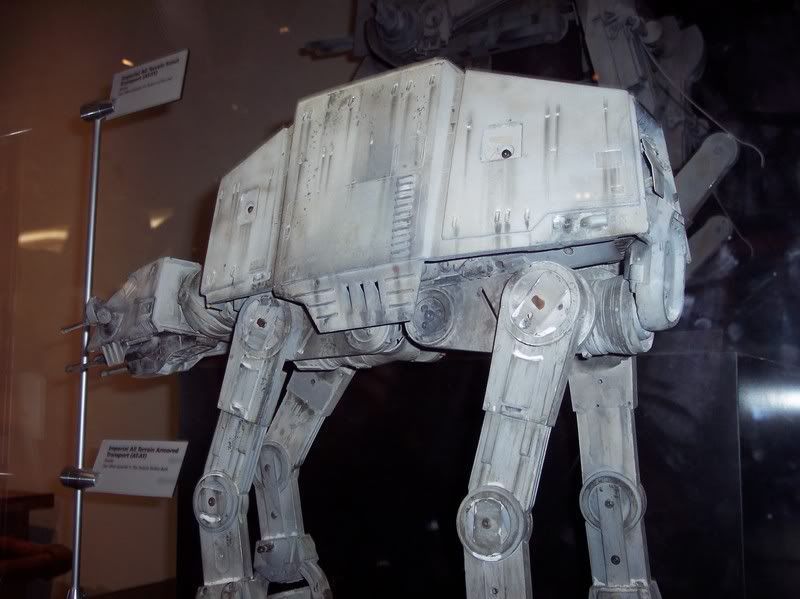 As seen by Thing 1.
Behind Vader's mask:
And a look inside Vader's collar:
But who is holding his leash?
Then it was time for Kids With Cameras!
Me and TikiRoomLiz
R2D2's cousin?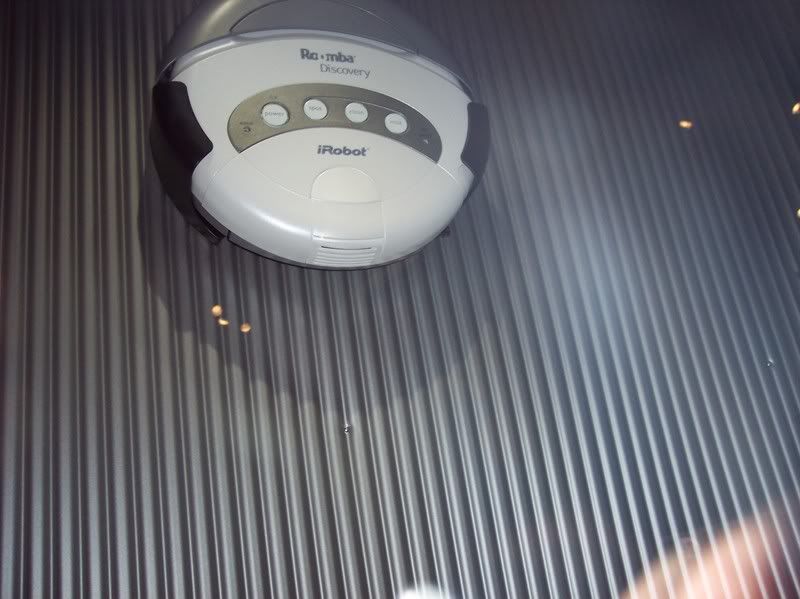 Fashion show time!
Thing 1 (with TikiRoomLiz)
Thing 2 goes Solo!
On the way out, you have to go through the store: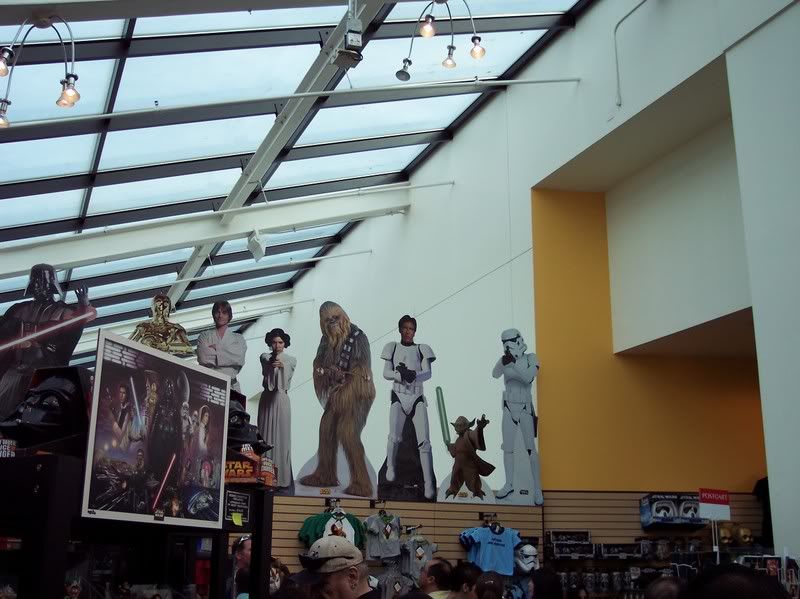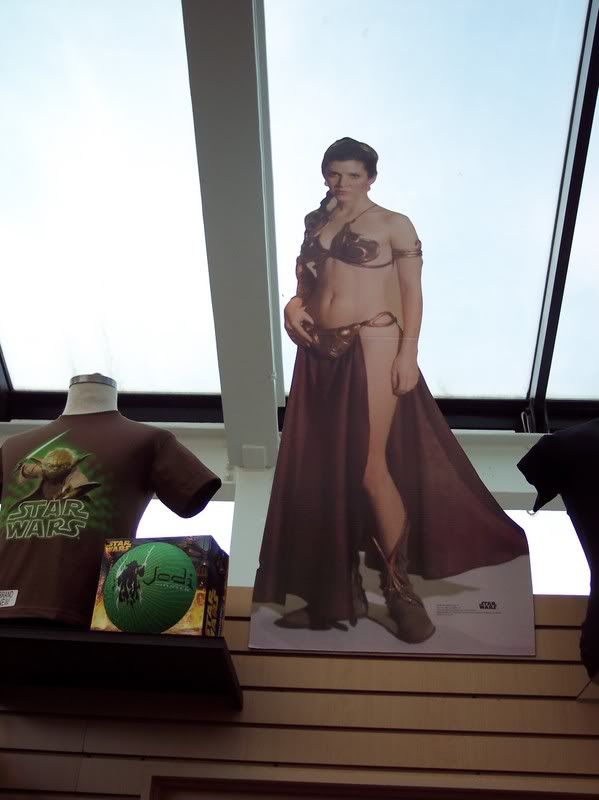 Me likey!
Lost Boy and TikiRoomLiz do some serious perusing:
And they had an amazing collection of GIANT PEZ: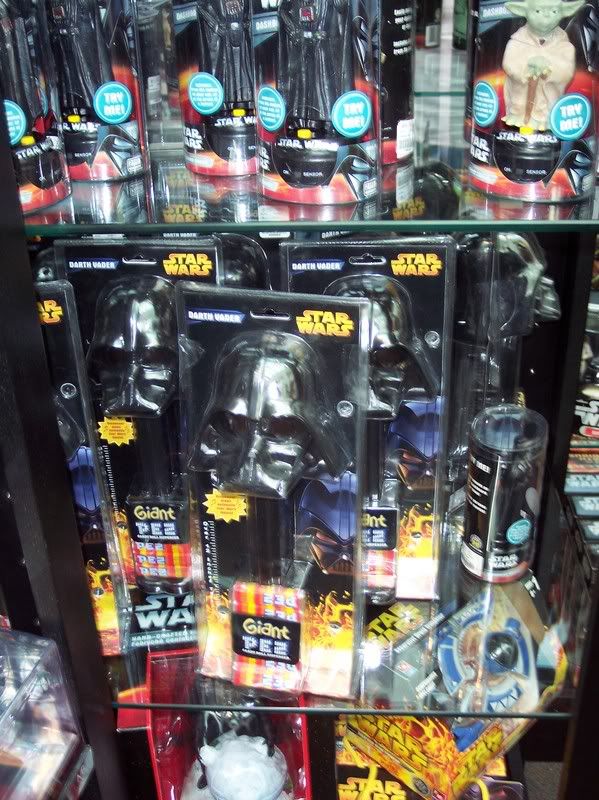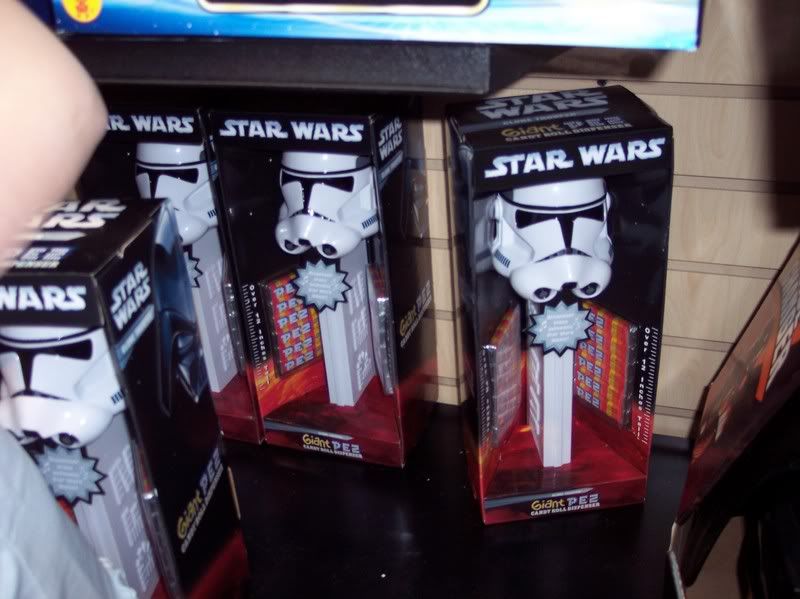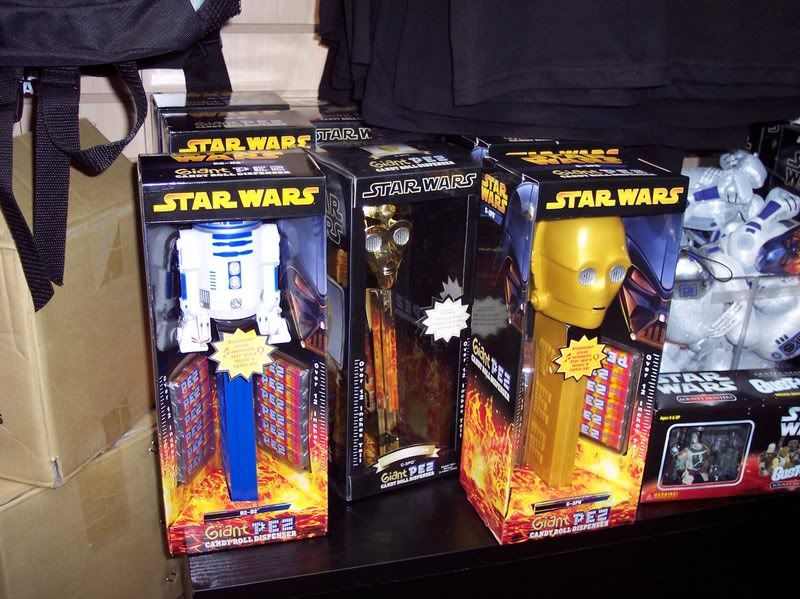 The shiny C3PO even had light-up eyes!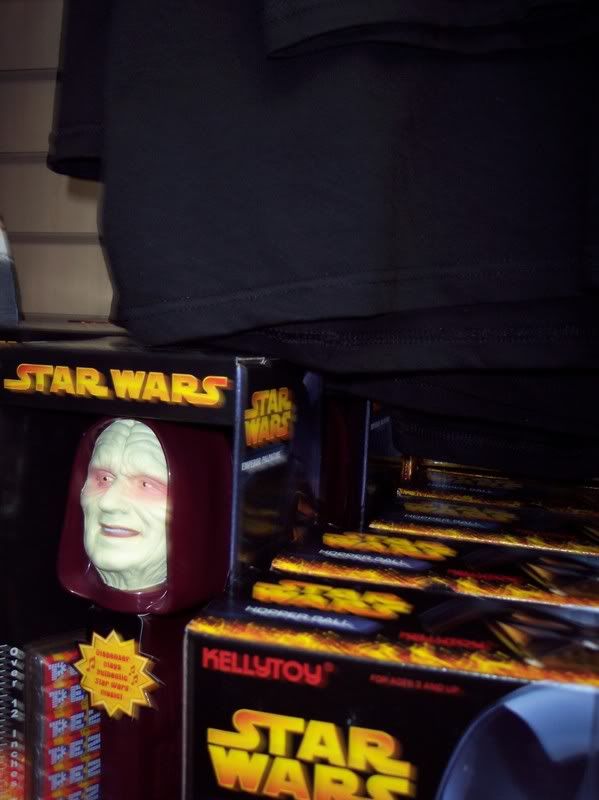 Shiny, Happy Emperor!
And downstairs, the big Mice Chat logo:
(Mice Chatter TikiRoomLiz optional)
Lost Boy shows his MC pride: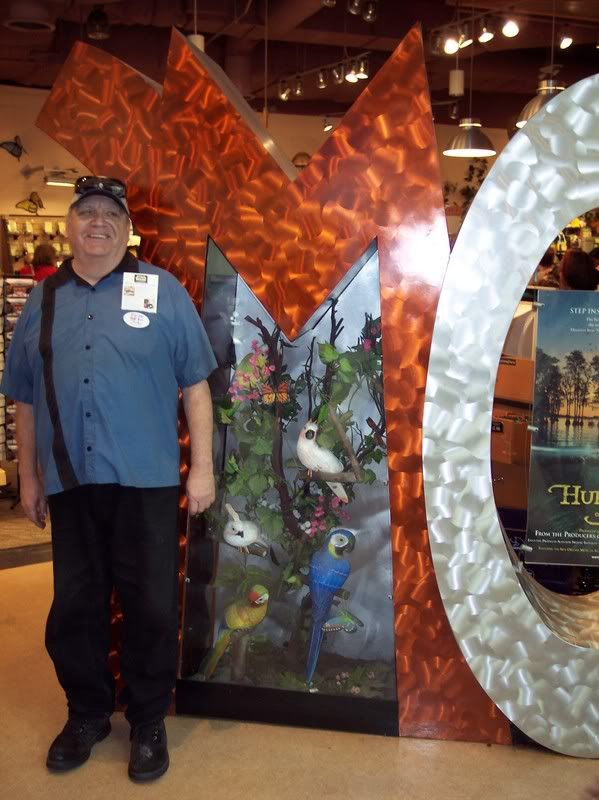 Sly and the Family PEZZ:
On the way out, Lost Boy does some recruiting:
And then it's time for Lost Boy and TkiRoomLiz to say their goodbyes and head off into the sunset:
The PEZlings give the rock climbing wall a run for it's (my) money:
Thing 2 gets a grip...
And Thing 1 proves that what goes up...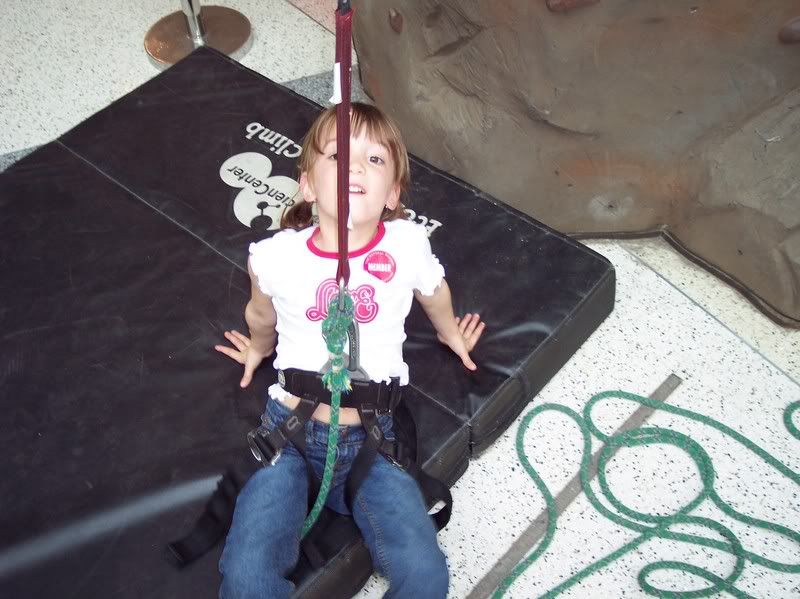 ...must come down!
And that was our day up in LA! Not as much walking or ride action as DLR, but very cool nonetheless. I would definitely recommend this exhibit to anyone who likes the movies and thanks to TikiRoomLiz for getting this trip together!
Here are links to a couple of other Star Wars TR's as well:
TikiRoomLiz Trip Report!
Frogberto visited the week before and took some awesome shots!
Hope to see you again soon, but for now it's...