Press Release from PR News Wire - February 28, 2007.
Two of the Largest U.S. Entertainment Brands Unite: Mall of America and Nickelodeon Announce New Partnership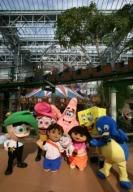 Mall of America(R) and Nickelodeon announced a partnership today, combining the country's largest shopping and entertainment destination with the number one entertainment brand for kids. Under the new agreement, various Nickelodeon properties and characters will come to life in the first-ever Nickelodeon themed park, set to open in spring 2008. Nickelodeon characters pose for the camera, above, in their new home at Mall of America. (PRNewsFoto/Mall of America)


Top Nick Properties Such as SpongeBob SquarePants, Dora the Explorer, and Avatar will be Part of the First Ever Nickelodeon Theme Park in Mall of America Nickelodeon to Launch Its Largest Retail Store in the World and Themed Healthy Eateries in Mall

BLOOMINGTON, Minn., and NEW YORK, Feb. 28 /PRNewswire/ -- Mall of
America and Nickelodeon announced a partnership today combining the
country's largest shopping and entertainment destination with the
number-one entertainment brand for kids. Under the new agreement, various
Nickelodeon properties and characters will come to life in the first-ever
Nickelodeon themed park, part of a re-branding of the Mall's seven-acre
amusement park. Fresh designs and exciting new rides and attractions,
inspired by Nickelodeon's popular shows and characters, are just a few of
the anticipated changes. Construction will begin after the architectural
plans are complete, with the grand opening of the newly re-themed

"Nickelodeon's family-friendly focused entertainment is a perfect fit
for Mall of America, and we are thrilled about what this means for the Mall
and Minnesota," said Maureen Bausch, vice president of business development
for Mall of America. "We expect the newly themed park will draw even more
new visitors from around the United States, as well as international travel
markets."

"Both Nickelodeon and Mall of America have tremendous family and kid
appeal. This is the perfect marriage of two entertainment entities:
Nickelodeon, the number-one brand for kids, and Mall of America, the top
shopping and entertainment destination in the country," said Howard Smith,
senior vice president of Nickelodeon Recreation. "We're absolutely thrilled
to expand our brand with our first stand alone Nickelodeon theme park and
our largest retail presence in such a wonderful destination."

As part of the partnership, Nickelodeon will bring an assortment of its
top characters, interactivity, and its signature iconic green slime to Mall
of America. The newly revamped park, and the first ever Nickelodeon theme
park, will feature new rides, live shows, attractions, retail, games and
entertainment, and food service establishments themed with top ranking
network properties including: SpongeBob SquarePants, Dora the Explorer, Go,
Diego, Go!, Avatar: The Last Airbender, Danny Phantom, Jimmy Neutron: Boy
Genius, The Backyardigans and many more. Costumed characters and live
interactive entertainment from these Nickelodeon and Nick Jr. shows will
also find a home at the Mall.

Though the majority of the creative elements are in development,
including the official name of the new park, one of the first rides to be
introduced in the park is a roller coaster based the animated Nick series,
Avatar: The Last Airbender. Located in the northwest corner of the park,
the "Avatar Airbender" will be the park's first upside down roller coaster.
Construction is expected to begin in 2007.

During the transitional period and the construction, the amusement
park, current attractions and rides will remain open.
Full story available here:
Two of the Largest U.S. Entertainment Brands Unite: Mall of America and Nickelodeon Announce New Partnership