From the Disney World Passholder Newsletter:
Be among the first to enjoy our newest
Magic Kingdom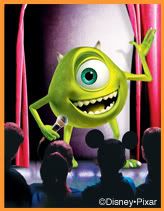 Friday, March 30 through
Sunday, April 1, 2007
Regular Park Hours
Because you're a valued Passholder, you and up to three guests are invited to join "Monster of Ceremonies" Mike Wazowski and his wacky friends at Monsters, Inc. Laugh Floor, the hysterically funny new Magic Kingdom attraction inspired by Disney•Pixar's "Monsters, Inc."
You'll be at the center of the fun as a crazy cast of wisecracking creatures takes the stage to trade quips with each other—and maybe you, too! Under the watchful gaze of Roz, it's up to you and Mike to power the city of Monstropolis with riotous laughter!
Here are a few things to know:
For you to be admitted into the special preview, you'll need to present your valid Walt Disney World Annual or Seasonal Pass and photo ID.
For your guests to be admitted into the special preview, they'll need to be accompanied by you.
Park admission will be required for your guests.
It's just another way we want to say "thank you" for being a Disney Passholder!
To find out more, visit disneyworld.com/passholder.