Disney Shareholder meetings are famous for their drama, marketing, and lack of any real new information. This year had all of the above and more (or less as the case may be).
Chuck Oberleitner, of
www.O-Meon.com
reports on all the juicy details
50 minutes into the proceedings while Disney/Pixar creative head John Lasseter was giving a forward-looking presentation of upcoming films from the two studios, corporate gadfly extraordinaire Evelyn Y. Davis leapt to her feet, walked up to a microphone, and demanded Disney chairman John Pepper stop the presentation and get on with the business of the meeting.

"We didn't come here to hear a lecture about animation," an agitated Davis barked at Lasseter and Pepper in her ponderous Dutch accent. "We're here for the business of the meeting. These things should be saved for after shareholder business!" Davis continued, without pausing to give either Pepper or Lasseter an opportunity to respond.

Disney's annual meeting was almost delayed as the ever-demanding Ms. Davis insisted on meeting privately with Disney CEO Bob Iger prior to the meeting, for some personal one-on-one time and pictures.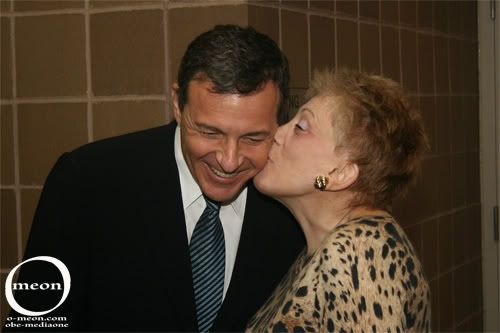 Even after spending several minutes alone with Iger, Davis clung to the Mouse House Big Cheese as the pair emerged from a conference room in New Orleans' Ernest N. Morial Convention Center. Just as photographers appeared, despite the efforts of Disney Company executives to restrain her, the 76 year old Davis moved toward Iger saying she wanted to give him a kiss.
Chuck goes on to detail information about upcoming Disney and Pixar films. Including information about Disney's first African-American princess in the upcoming
The Frog Princess
.
For all the details, please visit
www.o-meon.com
. You'll be glad you did.