JUMP IN (2007)
Starring Corbin Bleu, Keke Palmer, David Reivers and Shanica Knowles
Directed by Paul Hoen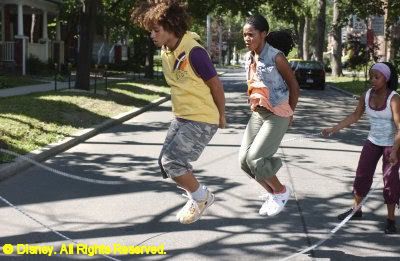 In a crime-free, drug-free, danger-free New York City that could only exist in a Disney movie, talented up-and-coming young boxer Izzy is torn between his father's dream of him becoming a professional fighter and his own growing passion for . . . competitive jump roping (??).
Jump In just about pulls off its far-fetched premise with an energetic cast and attitude that actually makes double dutch look cool. Corbin Bleu (High School Musical), all perfect teeth and gravity-defying hair, has charm to burn as Izzy, the boxer that must learn to follow his heart.
Jump In premiered on the Disney Channel in January and was the highest rated original movie debut ever on the mouse network. Bonus features on the DVD include a "Learning the Moves" instructional video, the making-of featurette "Inside the Ropes" and the pop-hop music video "Jumpin."