Alternately titled - The MiceChat Wicked Trip - A Different Kind of Magic!
Thanks to the efforts of one certain MiceChatter, namely Mamabot, 61 of us got really good seats, to see a great show that presents the old Wizard Of Oz story from, shall we say, a slightly different point of view.
My wife Kathleen read the book when it first came out, has been listening to the soundtrack for about, what, at least two years now? And we'd missed out of previous opportunities so when the ticket possibility opened up some months back...well, it was as if she (and therefore I) had been counting the days til...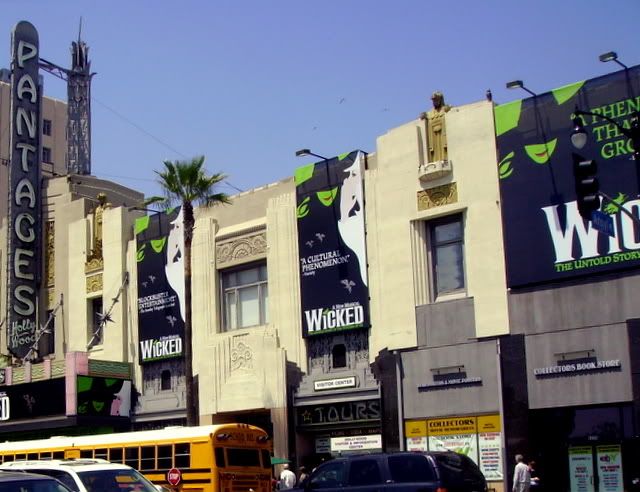 Since I had worked in both the old KFWB and KNX radio studios that essentially flanked the Pantages, I at least had no trouble finding the place.
One of Hollywood's great and historic theaters.
And just as if I'd wandered into the hub area at noon on Sunday, it didn't take me long to spot a MiceChatter or two...
And that IndianaJenn is certainly one very embraceable fellow Angels fan! I think she's hugging MickeyMaxx here...I think...
If I am wrong...may the Wicked Witch of the West
...well, I am sure that someone will point it out.
Hollywood Boulevard...the street of dreams. That is where I found a young, rising star named Wolfette...
who, despite the encouragement of her lovely mother, could not apparently stand the thought of posing for even one more member of the MC paparazzi...
Undaunted, my lovely bride Kathleen and I strode into the lovely, historic building. I took many, many pictures of the beautiful lobby and interior of the theater (stopping before the show, of course, as directed by the ushers).
I am ever humbled by this thing called photography, and as a result these were the two of many, many that came out reasonably well...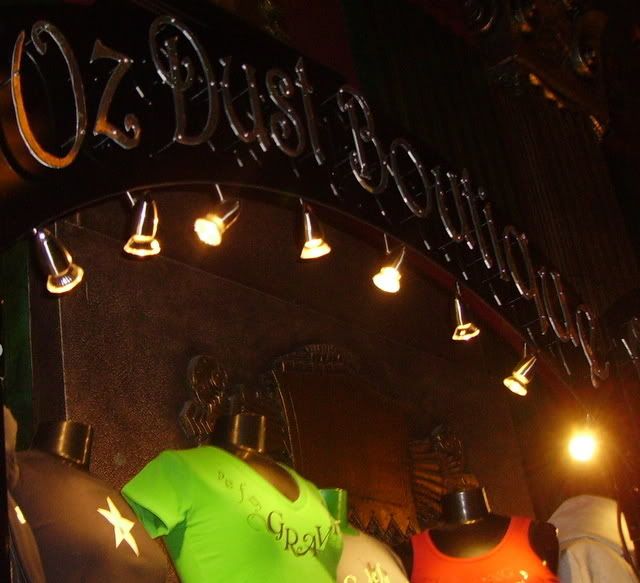 An image above from one of the souvenir stands...and below, of the upper reaches of the Pantages stage...
Hope that gives you at least a taste of what it's like inside the Pantages.
Between about 2pm and 5pm, we were treated to one of the best productions I've ever seen...dancing, lighting, sets, singing, story, all just tremendous! And after all of that...who did I encounter outside the theater but...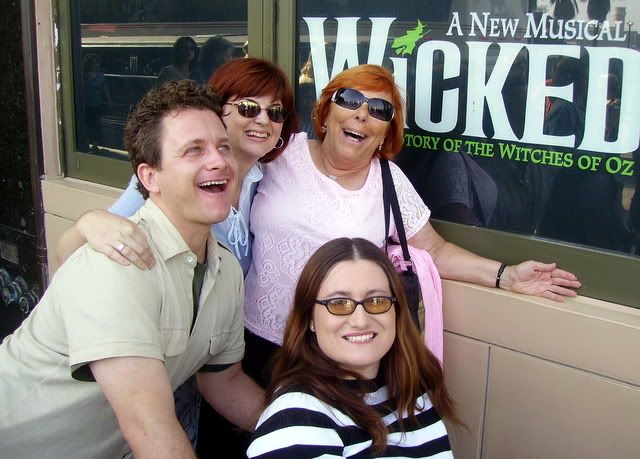 The Wizard of Oz...and Tin Man, Scarecrow and the Lion...(This part of my TR is interactive! You decide which one, is which
) )!
So, what to do for the impending dinner. Well, as you may have noticed, there are times when organizing MiceChatters is a bit like herding cats. We were thinking about Mel's Diner, but the wife said she'd been wanting sushi. so...we went with a group to a place called Kojis...
http://www.kojisjapan.com/index.asp
And got seated at this long, V-shaped counter, with these pots of water in front of us. Things got very steamy for us at times. Especially so, it seems, for our good friends Dusty and Fishy!
And I'm not sure that if our MC "steamed" leader was pleased with my photographic intrusion!
And then I see Mr. Charming Fishbulb, and my wife
:blush: ...
He is one mean back scratcher as well as a hugger!
This is where the plot thickens...and normally when the plot thickens...it's time to head to the snack bar! INTERMISSION...