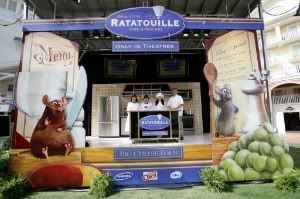 Photos by Jeffrey Glickman
With cooking demonstrations, a digital theatre and a 25' wedge of cheese, Disney and Pixar are taking
Ratatouille
on the road. The interactive "Big Cheese Tour" will make appearances at food festivals in major cities this summer to promote the upcoming animated movie about a rat who longs to be a French chef.
The first leg of the tour runs through tomorrow at the Walt Disney World Resort. Future stops include:
May 19-20 - Atlantic Station, Atlanta, GA
May 26-27 - Taste of Cincinnati, Cincinnati, OH
June 1-3 - Milwaukee Riversplash!, Milwaukee, WI
June 9-10 - Three Rivers Arts Festival, Pittsburgh, PA
June 17 - International Cultures Festival, New York, NY
June 23-24 - Safeway BBQ Challenge, Washington, D.C.
June 30-July 8 - Taste of Chicago, Chicago, IL
Additional dates in July are to be announced.
The "Big Cheese Tour" is co-sponsored by Intel, General Mills/Chocolate Chex and Samsung.
Ratatouille
opens in theaters on June 29th.
Source:
BusinessWire