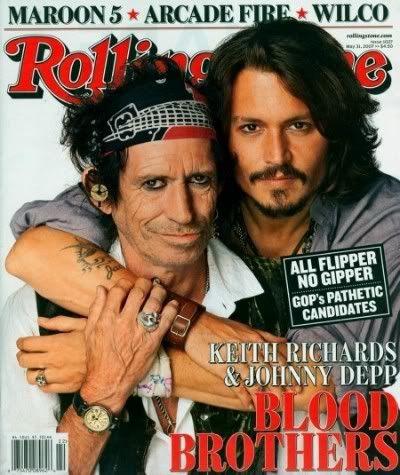 So you have seen the movie, Keith?
RICHARDS: Oh, s***, yeah. How can you not with your grandkids around? I saw it when Pirates 1 came out. Pirates 2 I did fall asleep in, but I'd been up for three days.

DEPP:I might have fallen asleep myself.
Johnny, has the huge success of the first two Pirates movies surprised you?

DEPP: It surprised the s*** out of me, because I'm used to about eighteen people seeing my movies.

And what, if anything, can you tell us about the third movie?

RICHARDS: You're looking at it now [points to his costume].

This is as close as you'll ever be, Keith, to being a Disney character.

RICHARDS: I'm the next Mickey Mouse -- look out.

DEPP: Mickey Mouse with dreads.
http://www.rollingstone.com/news/cov...blood_brothers