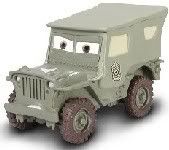 Mattel announced a second wave of toy recalls today that included 253,000 "Sarge" cars from the Disney/Pixar movie
Cars
. They are 2 1/2" die cast cars sold between May 2007 and August 2007, packaged individually and as part of two-car sets. The cars are being recalled for having surface paint with lead levels in excess of Federal standards.
Additional toys being recalled today include various Polly Pocket, Barbie, Batman and other items which contain magnets that could come loose and pose a hazard to small children if ingested.
Over 9 million toys total were affected by today's recall.
Mattel announced a recall of 1.5 million Fisher-Price toys on August 2nd. These Sesame Street and Dora the Explorer items also contained surface paint with excessive levels of lead.
Details, including complete lists of recalled items, are on Mattel's website at
http://www.mattel.com/safety/us/
.