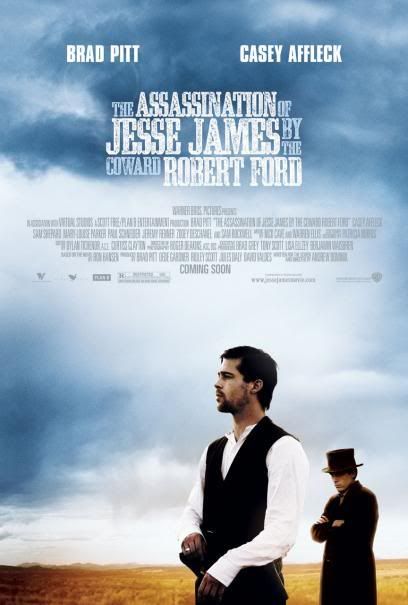 Not unlike the famous outlaw himself this film had a troubled history and a questionable and inflated reputation.
First came it's original release date being pushed back a year and talk of badly received test screenings here in Los Angeles. Happily the filmmakers have used their time wisely and well and have crafted a modern masterpiece. At the recent 64th Venice International Film Festival star Brad Pitt was voted Best Actor. I'd expect to see his name in contention in the same category for the next Academy Awards.
Pitt's work in this film is a revelation, it touchs the stepping stones of his career thru 'Twelve Monkeys', 'Fight Club' and 'Babel' and bypasses them all.
Casey Affleck gives a masterful performance as Robert Ford. His mad childhood man-crush on the famous outlaw escalates beyond fandom to the heights of a modern stalker and ultimately hero displacement. A song from The Eagles' 'Desperado' album, 'Certain Kind Of Fool' describes him well:
They got respect, oh yeah,
He wants the same, oh yeah,
And it's a certain kind of fool who
Like to hear the sound of his own name
This is a film that taps the cinematic beauty of other films such as 'Days of Heaven' and 'Heaven's Gate' but has it's own singular beauty and charms.
The cast is perfect from an always dazzling Sam Rockwell as Charlie Ford and Sam Shepard as Frank James to Mary-Louise Parker and Zooey Deschanel. Special mention should also be made of the young actors that shine very brightly as various James gang members Jeremy Renner, Garret Dillahunt and Paul Schneider, one of the saving graces in 'Elizabethtown', as Dick Liddil.
Since the 1920s motion pictures have made Jesse James an even bigger star than he was in life, expanding upon the dimestore novels that secured his fame. He's been portrayed by Tyrone Power and was a major figure in 'The Great Northfield Minnesota Raid' and a favorite of mine Walter Hill's 'The Long Riders'. James' long ride has gotten better with time and struck gold now.
'The Assassination of Jesse James by the Coward Robert Ford'
is now playing in Los Angeles, New York, Austin and Toronto
The film is rated R