Orlando Bloom in Fender Bender: Report
FRIDAY OCTOBER 12, 2007 09:00 AM EDT
By Tim Nudd
People
Orlando Bloom
Photo by: Eric Charbonneau / WireImage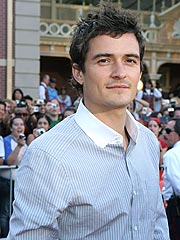 Orlando Bloom was reportedly involved in a car accident in Los Angeles last night.

The accident – apparently minor – occurred around 2:15 a.m., according to TMZ.com which says at least one person suffered minor injuries. It was unclear if the 30-year-old Pirates of the Caribbean star was hurt or if anyone was taken to the hospital.

Bloom was driving a 2003 Toyota Matrix registered to Dariusz Wolski, the director of photography on the Pirates movies, TMZ reports, adding that Bloom had spent time at the Green Door in Hollywood earlier in the evening.
http://www.people.com/people/article...152140,00.html