'Idol' Attraction to Open at Disney's Hollywood Studios
February 7, 2008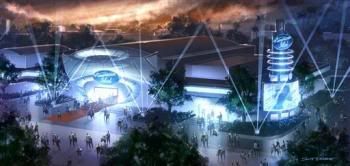 PHOTO: AP/Disney
Walt Disney Parks and Resorts announced its plans Thursday to create an
"American Idol"
live performance show at Disney's Hollywood Studios theme park at Walt Disney World in Florida.
"Our goal is to try to recreate the excitement of those 24 people who show up on that 'American Idol' stage," Disney Parks chairman Jay Rasulo told The Associated Press. "We believe many, many viewers want to know exactly how that feels, and we're going to try to reproduce that feeling for them."
Just like the television show, guests will be able to audition and perform in front of a live studio audience inside of the theater. The currently unnamed attraction is planned to open in late 2008 in the location of the current ABC-TV Theater. This location is the former home of "Doug Live!" and "Superstar Television" attractions.
Disney licensed the rights to create the attraction from "Idol" co-producers 19 Entertainment and FremantleMedia, despite the fact "American Idol" airs on Fox and Disney owns broadcast competitor ABC.
"It is owned by us, so we can extend the brand in the off-air space in the ways that we want to," said Keith Hindle, FremantleMedia's licensing vice president. "We don't see this in any way as a NewsCorp. vs. Disney debate. That's never been part of the discussion, and it's not something that's relevant to us. It's just part of 'American Idol.'"
The details of the attraction are still being worked out, but will likely become something like this: Theme park guests ages 14 and up will be able to audition for a Disney casting producer. Guests who pass the test will appear in one of the park's "Idol" stage shows - approximately six to eight a day. Backstage the guests will receive hair and makeup treatment, much like the actual show.
Top audience favorites of each show will have the opportunity to participate in the grand finale show at the end of each day. Daily champs will receive a front-of-the-line pass to audition for the actual "American Idol" program.
While this pass will expedite an audition, it won't give them any special treatment during the audition. Also, since the ages vary for the Disney show and FOX program the pass may be passed on to a family member or a friend, hold the pass until they are old enough to complete, but it will not be for sale.
"Idol" stars may also make visits to the show throughout the year and collaborative merchandise is also planned.
"It's a very collaborative process," Hindle said. "Disney knows more about live stage productions that we ever will. We know more about our TV show that Disney ever will. Exactly how this will manifest it is something that will be mutually approved by all parties. We're looking to Disney to see how their guests like to be entertained."
More on the story
:
Associated Press
.