Fire Closes Safari Attraction at Disney's Animal Kingdom Sunday
February 11, 2008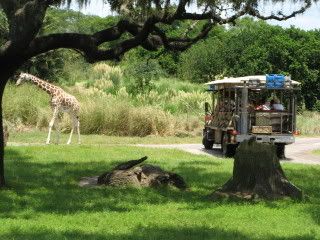 PHOTO: BigPigletFan 08/21/07
A small fire broke out on Kilimanjaro Safari at Disney's Animal Kingdom Sunday afternoon leaving one girl slightly injured and three others who requested immediate medical care after leaving the ride vehicle -- closing the ride for the rest of the day.
The fire broke up between 3 p.m. and 4 p.m. near the front of a safari truck. Fire and medical vehicles were sent to the scene, but the fire was mostly out when Reedy Creek Fire District arrived according Bo Jones, Reedy Creek Fire District's assistant chief.
An engine hose failed, resulting in a fire in the engine compartment according to Disney spokeswoman Andrea Finger.
Four guests requested medical treatment for minor injuries. One woman complained of a knee injury from jumping from the truck and was sent to Celebration Health.
The attraction remained closed for the remainder of the day, which is standard Disney procedure when accidents or malfunctions occur. All Safari vehicle hoses will be inspected prior to their re-opening Monday.
More on the Story:
Miami Herald
;
Orlando Sentinel
.