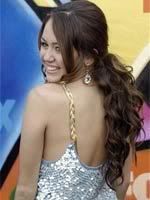 Image Credit: Associated Press
In a blog item posted Monday, Consumer Reports magazine says 15-year-old superstar
Miley Cyrus
, who plays Hannah Montana on television, is seen in her new movie riding without a seat belt in the back seat of a Range Rover.
"It seems to us that Miley, her father and Disney had a perfect opportunity to help influence teens and counteract — rather than encourage — this trend," the blog item says.
I don't have any statistics here, but I think most seatbelt related deaths happen to front seat passengers, I could be wrong. I know in most states they can only ticket the front seat passengers for not wearing a seatbelt. Anyways, this seems a bit harsh to me. The media just can't wait to uncover the dirty secrets of Miley Cirus. And who can blame them, almost every other 'good girl' and role model out there has dissapointed (except for Hillary Duff, she seems to be pretty wholesome still).
The only sins she appears to be committing are fashion violations and poor choice of stylist (I am getting a little tired of seeing a 15 in super short skirts with tons of makeup, though her costumes in her concert tour are very cute and age appropriate).
Are they right to be pissed off? Will the wholesome image of Miley Ray prove to be a mere facade that will crumble into a tragedy of drugs and teen pregnancy?
Full story here:
http://movies.msn.com/movies/article...00451&GT1=7701