Howdy folks,
We have a new feature that we are trialing on most of the site. It is called
Highlight to Discover
and it does exactly what the name implies. You can search MiceChat and the internet simply by highlighting any word or phrase on MiceChat. And the best part is that you don't even need to leave the page you are reading to do so. The search results (web pages, videos, photos, etc.) show up in a little box on top of the page you are reading.
For example. Let's say you are reading a trip report on Tokyo Disneyland and decide that you want more information about the park or want to quickly find more photos and discussions. Just highlight the word "Tokyo Disneyland" and you'll see a "Learn More" box pop up. Simply click on it to discover!
Once you click on "Learn More", a search result window will pop up with your options. It will list a definition at the top, MiceChat page results under that, and Google and Bing results under MiceChat. Plus, you'll have the option to click the tabs for Videos and Images as well!!!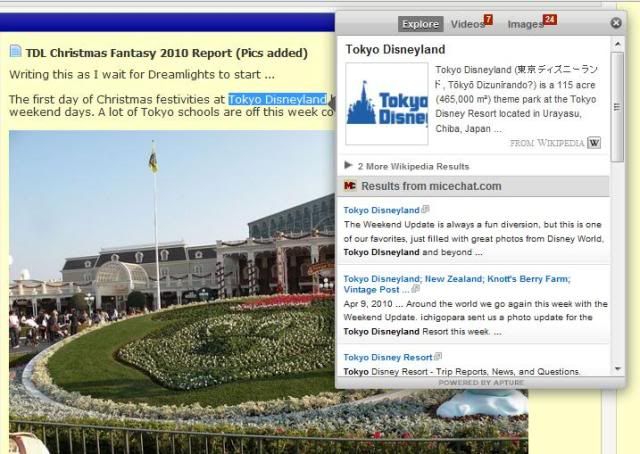 It's an easy and fun way to explore the site. Give it a try and let us know what you think!
Have fun discovering!
Dusty and the MiceChat crew