Detailed Look At Hong Kong Disneyland's Mystic Point:
If you are a Disney and more fan reader you know how much i love artwork. in fact you can find on Disney and more and on
Disney and more Artwork
what is probably the biggest collection of Theme Park artwork - mostly Disney theme parks - on the web.
So, when i saw last friday all these beautiful Hong Kong Disneyland artwork that were display at the D23 Expo, and as photographers were allowed in the Disney Parks and Resorts pavilion, i asked Andy Castro if he could go back and shoot again pictures of the renderings in the best possible photo quality.
Andy did a great job, i enhanced them a bit to have them even more perfect, and here they are. We will begin by Mystic Point and Mystic Manor, a brand new ride - which looks very promising. I've also included new pictures of the models and my own comments on the renderings.
Soooo, Mystic Point will be one of the three new lands of HKDL and when Mystic Manor will open it will be probably an "instant classic" attraction. Before i go further i want to warn you that there will be major spoilers all along the article. If you don't want to know anything about the storyline, this is definitely not the right article! Also, click on each pictures to see them in big and explore details.
In the story line that WDI Imagineers imagined, the Manor owner is an explorer called Lord Henry Mystic, a member of the Society of Explorers and Adventurers. If you remember well, Harrison Hightower III, the owner of the Hightower building at Tokyo Disney Sea - i.e the Tower of Terror - was also part of the same society. At HKDL action is supposed to be in 1908 and Lord Mystic is still alive and exploring the world. He is inviting us to this remote outpost in the Jungle. Mystic has a friendly companion, a monkey called Albert.
In the first scene above Henry Mystic will appear and warn us that a new artifact - a box - that he just bring back from one of his expeditions is supposedly enchanted and must be open very carefully.
We will then enter the loading room and board in the attraction vehicles which, let's remember it, are not omnimovers like in the Haunted Mansion and will be able to move in any directions or even spin.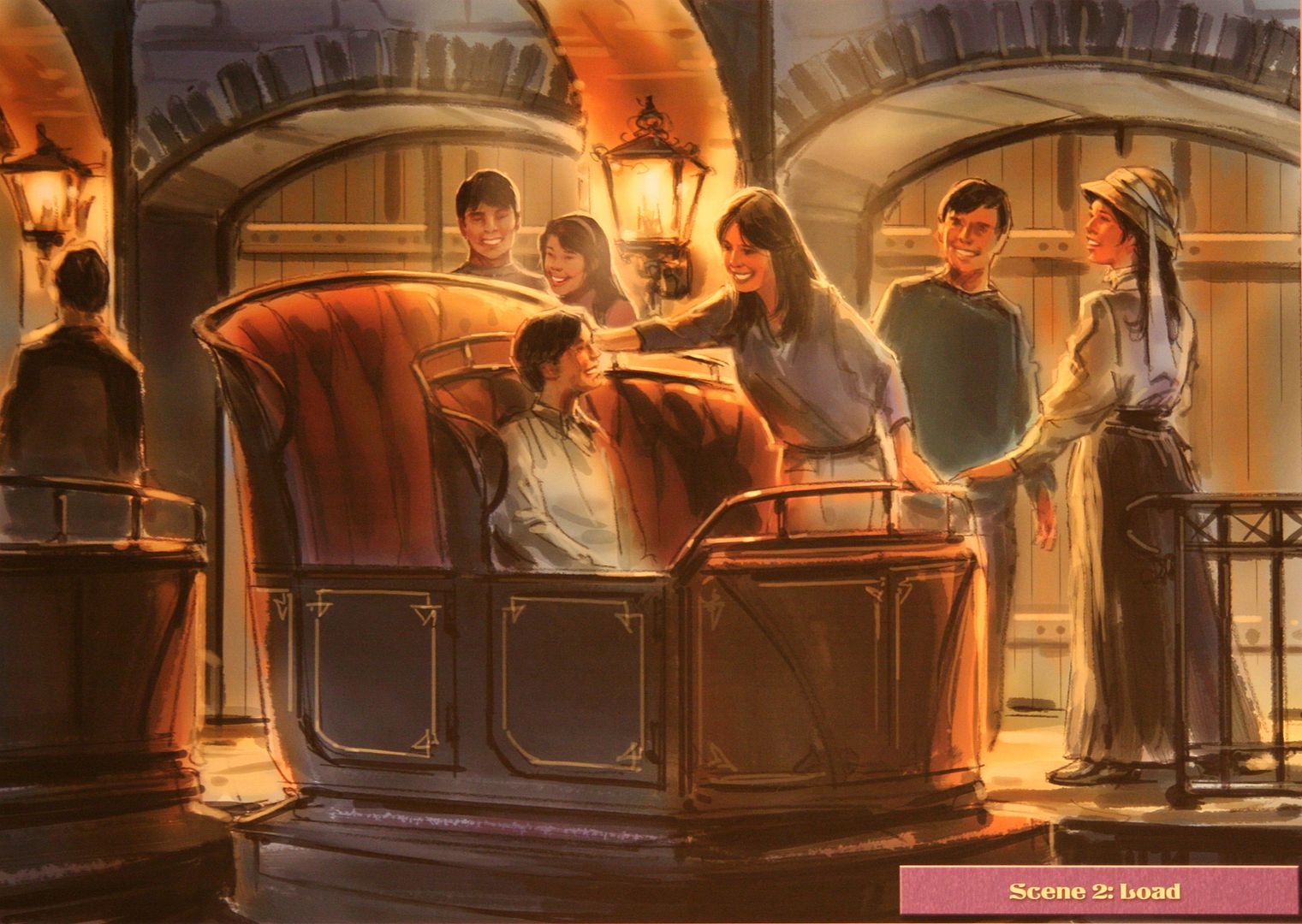 Albert the monkey is intrigued by the box and will try to open it. And when he does, just like the box of "Pandora", the forces inside the box will be unleashed. A mysterious smoke will get out of it and will start to take over the different rooms. All the artifacts that guests will see in all the rooms will suddenly and magically come to life.
Inside the next room - the Music room - music instruments will start to come to life. I won't be surprised if we find in this room some Haunted Mansion effects - remember the piano who play by itself in the doors corridor?
Jump to the full article to discover all the Mystic Manor artwork and story line!
Disney and more: D23 EXPO Special Report : Hong Kong Disneyland Mystic Point Artwork
-