The Spring issue of Disney Twenty-Three magazine is just about to sail around the bend and will hit newsstands on February 1st, 2011.

And the big news and cover story of the issue is . . . . the brand new Disney Dream cruise ship.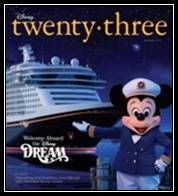 The magazine will explore the massive new ship, giving readers a
stem-to-stern tour.
Joe Lanzisero steers readers through ideas from the minds of his fellow Imagineers, such as the inventive magic portals which give every room in the ship an ocean view.
The
issue also includes an interview with Sir Elton John, discussing his participation in Disney's new animated feature film, Gnomeo & Juliet, a comedic retelling of Shakespeare's love story that now stars garden gnomes. Sir Elton talks about how the film inspired him to spoof his own music, adding that "every artist should have a sense of humor about himself. Nothing is sacred. I think poking fun at yourself is one of the greatest things you can do." He also chats about recording a duet with Lady Gaga called 'Hello Hello" and provides surprising insight about other songs included in the film.
Nightmare Before Christmas fans will delight in a great story about the collaboration between composer Danny Elfman and filmmaker Tim Burton, presenting fans with a retrospective of the quirky fruits of their collaborations.

Other stories include:
GOOD TASTE IS TIMELESS

: Highlights the history and tradition of the refreshing beer called Radeberger that is served at Epcot's Germany Pavilion.

INSIDE AT DISNEY'S EXCLUSIVE TALK, SQUAWK & SQUEAK CLUB

: The personalities who give voice to Mickey, Minnie, Donald, Goofy and Pluto.

THE ADVENTURE OF A LIFETIME

: Walt Disney Archives Director Becky Cline leads a rich trip back in time, packed with vivid photos and travel tales giving readers an incredible insight into Walt and Lilly's voyages abroad.

SEAS THE DAY: Take a dive at Epcot: It's a whole new world as Disney twenty-three Editor-in-Chief Carmen Capone goes scuba diving and comes face to face with a shark!
THE ELEPHANT IN THE ROOM: Richard Kraft, agent to musical talents Danny Elfman, Alan Menken, Richard Sherman and others, packs his Encino, California, home with vintage Disney treasures… including, of course, a Dumbo attraction vehicle from Walt Disney World.
23 QUESTIONS WITH...

Imagineer, attraction designer and Disney Legend Bob Gurr.

A WALK WITH WALT 1939: WORLDS TO CONQUER: Even as Walt crafted his groundbreaking Fantasia, construction crews were breaking ground on his brand new studios in Burbank.
D SOCIETY

: Alan Menken, Leonard Maltin and some very popular D23 Members (even a duo direct from Tokyo!) are all in the spotlight.

PHOTOfiles: Disney twenty-three's ninth installment of rare pictures from the Disney Photo Library takes readers from a 1941 photo shoot with Walt to visits back home to Marceline and to the set of Mary Poppins.
GOOD MOUSEKEEPING: A new column featuring classic Disney comics originally published in the 1930s and early 1940s in Good Housekeeping magazine.


D23 Members will receive an exclusive D23 Expo 2011 luggage tag featuring the beloved chipmunks Chip and Dale that will be shipped to members exclusively.
For everyone else, Disney twenty-three magazine will be available at select retail locations for $15.95 on February 1st.

For more information about the magazine or D23 membership, visit:
www.disney.com/D23

.