As we suspected from the beginning, the Treasures of the Walt Disney Archives show recently displayed at the Reagan Library Presidential Library is going to hit the road. Next stop, Chicago's fabulous Museum of Science and Industry on October 16th, 2013 (which is also the 90th anniversary of the Walt Disney Company). The show will run through February 17th, 2014. While I'm sure there will be changes to the show to fit the local audience, I think it is fantastic that folks outside of California will get a chance to experience this show and take an up close and personal look at some famous Disney items and history.
If you've never been to Chicago or are looking for an excuse to go back, this could very well be a great reason. Chicago is one of my all time favorite cities and I'm certainly going to try to make a effort to get there for this exhibit.
Presented by D23, the
Treasures of the Walt Disney Archives
will showcase the creative accomplishments and innovations of Walt Disney, who was born in Chicago, and the ongoing legacy of the company that bears his name. From Mickey Mouse to Mary Poppins to Captain Jack Sparrow, the exhibition features many artifacts that have not been widely seen by the public - including drawings; props; costumes; artwork from classic Disney animation, theme park attractions, TV shows and live action films; plus items from contemporary Disney milestones.
The exhibition will feature hands-on, interactive stations that will bring Disney technological breakthroughs in animation and motion pictures to life. Guests can try their luck in recording sound effects for a film, explore the wonders of Disney's revolutionary MultiPlane film camera and even learn to draw some of their favorite Disney characters in the Animation Academy. Plus, it is promised that there will be items and artifacts which will "stir childhood memories and be familiar icons to many."
"Through this exhibit we're pleased to showcase Walt Disney as both a master storyteller and an impressive innovator whose creative legacy continues to inspire people of all ages," said David Mosena, president and CEO of the Museum of Science and Industry, Chicago. "Guests will be immersed in Walt Disney's 'can do' spirit, optimistic outlook and never ending curiosity that propelled him through his impressive career. This spirit continues to be the creative inspiration behind many of the incredible experiences created by Disney today."
Items to be featured include:
Clips from several of Walt Disney's earliest animated works, before there was a Mickey.
The original script, written by Walt Disney, for the 1928 cartoon short Steamboat Willie, which introduced movie theater audiences to Mickey Mouse for the very first time.
A partial recreation of Walt Disney's formal office from the Walt Disney Studios in Burbank, Calif., including original furnishings and many of his personal items.
Hand-drawn artwork, hand-sculpted models and props used in the production of some of Disney's most iconic and renowned animated features, including Snow White and the Seven Dwarfs, Pinocchio, Fantasia, Dumbo and Sleeping Beauty.
A recreation of a working animator's office from the Disney Studios featuring authentic animator's furniture, and models.
Animation models and artwork from contemporary Disney animation film hits, including The Little Mermaid, Beauty and the Beast, The Lion King and Aladdin.
Props from classic Disney live-action films, including Mary Poppins, 20,000 Leagues Under the Sea, The Rocketeer, The Princess Diaries, Pirates of the Caribbean: The Curse of the Black Pearl and Enchanted.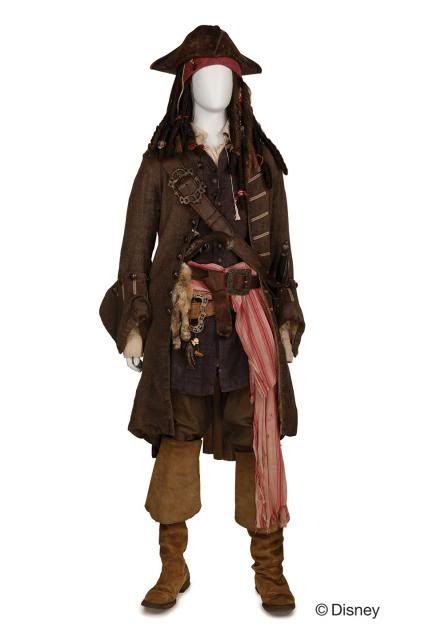 Captain Jack Sparrow costume worn by Johnny Depp in Pirates of the Caribbean: The Curse of the Black Pearl
A special area of the exhibition that is dedicated to the 50th anniversary of the release of Mary Poppins, with film clips, interviews with the movie's creators and rare behind-the-scenes photos.
A salute to Disneyland Park in California and Magic Kingdom Park in Florida, showcasing artwork, Audio-Animatronics characters, and memorabilia from such popular attractions as it's a small world, Great Moments With Mr. Lincoln, The Hall of Presidents, as well as early plans and correspondence for Walt Disney's vision of Epcot.
Tickets will go on sale at
msichicago.org
on September 4, 2013. D23 Gold and Silver Members will receive a special discount on exhibit entry.
Do we have any folks in the Midwest and Chicago who would like to cover the opening of the exhibit for MiceChat? We'd really like to see how it compares to the version displayed at the Reagan Library.