We have a quick D23 update for you. The Spring issue of Disney Twenty-Three Magazine ships today for Gold members. Here's the magazine cover: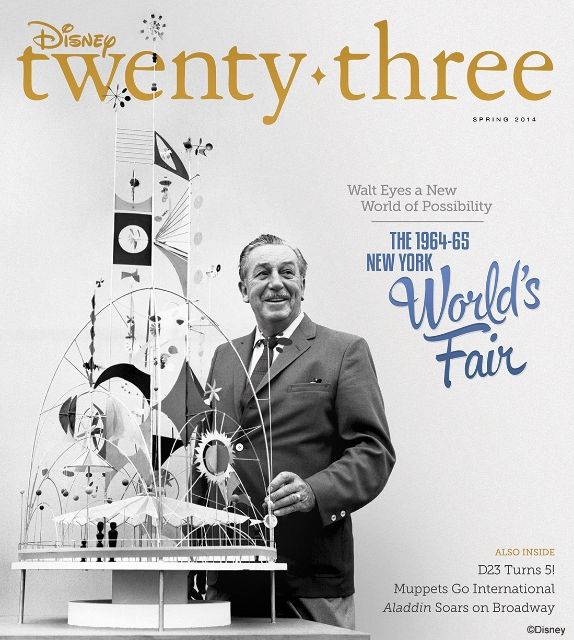 The issue celebrates Disney's numerous groundbreaking contributions to the 1964-65 World's Fair in New York from
it's a small world
and the
Carousel of Progress
to the
Ford Magic Skyway
and the Audio-Animatronics figure of Abraham Lincoln. You will also find interviews with Tina Fey, Ty Burrell, Kermit the Frog and Miss Piggy for Muppets Most Wanted; a behind-the-scenes look at Captain America: The Winter Soldier with Chris Evans; and an in-depth look at bringing Aladdin to Broadway, including an interview with Jonathan Freeman at how he is taking his characterization of Jafar from screen to stage.
Also, a few additional D23 items of note:
Last chance for tickets to see The Jungle Book on the Studio Lot with Disney Legend and animator Floyd Norman is today (Feb 13). Tickets go off-sale at midnight.
The first D23 Member tours of the Walt Disney Studio and Archives of the year, which will be held April 5, are now available.
Disney Interactive will provide D23 Members in Boston a first look at Disney Fantasia: Music Evolved in April (reservations for this free event start on February 20). These two events are exclusive to D23 Gold and Silver Members.
Also, February 21 is the last chance for D23 Members of all levels of membership to enter the "Ultimate Studio Tour Sweepstakes" which includes a tour of the Lot, the Roy E. Disney Animation Building, the Walt Disney Archives and lunch with Archives founder and Disney Legend Dave Smith - as well as a prize pack of goodies.
More information about membership and D23 events is available at their website:
http://d23.com