My book club read this interesting book. It is set in the future and takes place in WDW. The main character is out to save the Haunted Mansion from a group who want to take it over and "improve" it. Scroll down and read the synopsis from Publishers Weekly.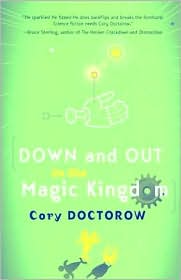 Publishers Weekly
A lot of ideas are packed into this short novel, but Doctorow's own best idea was setting his story in Disney World, where it's hard to tell whether technology serves dreams or vice versa. Jules, a relative youngster at more than a century old, is a contented citizen of the Bitchun Society that has filled Earth and near-space since shortage and death were overcome. People are free to do whatever they wish, since the only wealth is respect and since constant internal interface lets all monitor exactly how successful they are at being liked. What Jules wants to do is move to Disney World, join the ad-hoc crew that runs the park and fine-tune the Haunted Mansion ride to make it even more wonderful. When his prudently stored consciousness abruptly awakens in a cloned body, he learns that he was murdered; evidently he's in the way of somebody else's dreams. Jules first suspects, then becomes viciously obsessed by, the innovative group that has turned the Hall of Presidents into a virtual experience. In the conflict that follows, he loses his lover, his job, his respect-even his interface connection-but gains perspective that the other Bitchun citizens lack. Jules's narrative unfolds so smoothly that readers may forget that all this raging passion is over amusement park rides. Then they can ask what that shows about the novel's supposedly mature, liberated characters. Doctorow has served up a nicely understated dish: meringue laced with caffeine. (Feb. 14) Forecast: A blurb from Bruce Sterling, plus the author's connections in the cyber world (he co-founded the Internet search-engine company OpenCola.com), should give this one a lift. Doctorow was the winner of the 2000 John W. Campbell Award for Best New Writer. Copyright 2002 Cahners Business Information.
Me again...It was a fun book to read. I am the only Disney fan in my group (though one friend did help design the Toy Story Mania ride) and that ruled my perspective on the story. They saw it as a comment on the things we value and what the world would be like without the need for cash and what do you do in life if you don't die. Check it out if you can. You can actually read the entire book online for free. The author is into that sort of thing.