I read this book when it first came out and loved it. Any Disney/Pixar fan must own this book. The history is of this company is unbelievable and the author leaves nothing out. I just couldn't put it down.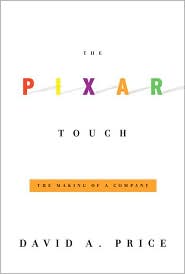 The Pixar TouchPeter Pan
and
Pinocchio
, realized he would never be good enough, and instead enrolled in the then new field of computer science at the University of Utah. It was Catmull who founded the computer graphics lab at the New York Institute of Technology and who wound up at Lucasfilm during the first
Star WarsThe Sword in the StoneThe Pixar Touch
vs.
Antz