My wife, Kathleen, is the voracious reader and Harry Potter fan in our family.
We had talked sometime back about attending the midnight release event when the seventh and final book in the series came out.
She pre-ordered said book. Her schedule indicated she had to work the night of the release. So I figured she'd just pick it up Saturday.
Then...about 8PM Friday night the phone rings. It's her. "It's Friday the 20th," she said. I should have said...thanks for the calendar update.
But I like my marriage...so before I could say "mugwumps" she said...could you...
Well, gallant husband that I am, I finished up some chores I was in the middle of, scooped up my trusty dog Angel, and drove 15 miles south to the Telephone Road Plaza in good ole Ventura, CA...
Good old B&N just a little busier than usual for a Friday evening.
So I checked in with the first official-looking person I saw, sitting at an official-like table outside the store's entrance.
Before I could tell her the good news that David Beckham had spurned the soccer LA Galaxy to help promote the growth of "quidditch" as a sport in America she turned her back on me...
Let's see ya "bend it" in that game, Beckham.
So now, I had everything at hand.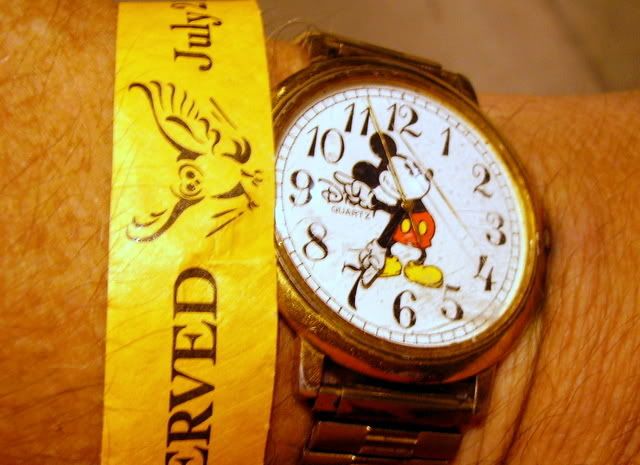 Mickey's plastic cover had been scratched in a tragic incident involving the dishwasher. Don't ask - I'll be at the watch store tomorrow to replace it. But that is one handsome...wrist...ya gotta say...
As for Angel, my little five pound chi/pomerian mix bundle of love...she was pretty camera shy. We took two long walks in the parking lot, and she was told how cute she is by about three dozen new fans of hers
. I thought it might be cute...if we posed with some Hogwarts students we saw milling around...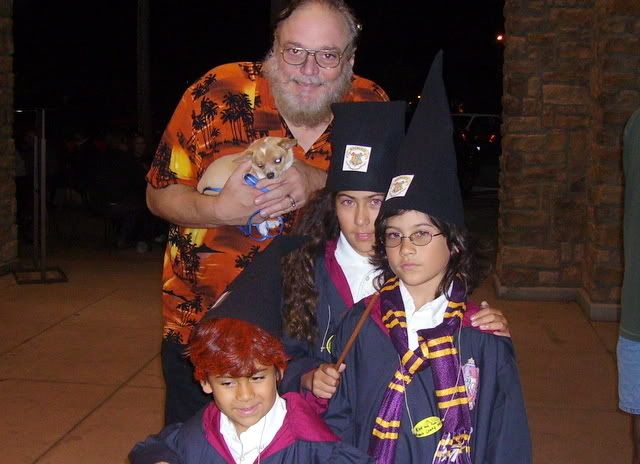 If those kids ever find out that they've been featured in a MiceChat RB Trip Report...well let's just hope they'll be a bit more thrilled than they appeared here.
Well, I'll tell ya, it was only 10:30, and with all this foolishness I was ready to hit the bar.
Yup, the hard stuff. I could multi-task because the line was long enough...I looked through all the football preview publications in the magazine section along the way. Most people would just...wait in line...but not me.
It might be good to note that I passed on the chocolate chip scone, and went for an asparagus, spinach and cheese thing they charge 5 bucks for. I guess that was a healthier choice.
But this is what I was really in need of..
A tall, dark drip with room for cream.
In other words...a drink just like me.:blush::lol:
To make a long story short (if it's still possible), Angel and I repaired to the car at about 11 pm to listen to sports talk radio, and about how the Dodgers and Angels lost. (Hey - Angel likes to listen to that - how can I deny her.
The countdown to midnight...there must have been several hundred people in line. Cars out on the street at midnight and after. Besides Jack In The Box this really was the happenin' spot in that happenin'
town.
I got a pic of two of the very first to emerge with the precious new tomes...
Free at last! Free at last! JK Rowling's last Potter books are "free at last ... well, maybe not free, but we are Barnes and Noble card members, so there was the 46 per cent discount....
In the meantime, Angel and I talked to people in line...Angel makes lots of friends even if she shies away from most of them.
I tried not to get too mad at one lady who said..."ahh, cute dog"...to which I replied "thank you" only to have her tell me "I wasn't talking to you"...
Anyway, by 12:45 or so we had the book, and as I was heading out, a young man approached and said...are you Barry from MiceChat?
That's
BigGameJ
! What a pleasure it was to cap off the night by meeting him...a really nice guy. And according to the what I know, wherever two or more MiceChatters are gathered in the name of Dusty and Fishbulb...it's a meet!
It was a fun night. And we topped it off by dropping by the hospital where Kat works, to give her some reading material for her "lunch" break (It was after 1 AM by this point).
Another nurse she works with told me with a grin that her daughter had already come by with a copy, so I was "old news".
What are ya gonna do sometimes.
Thank you for letting me share this.
--Barry