I finally finished this novel last week,
The Jane Austen Book Club
by Karen Joy Fowler. This is the third Austen type novel I have read recently. I have been on a kick. I'm still reading
Me and Mr. Darcy
and should have a review soon.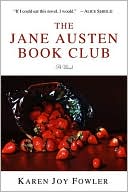 SynopsisThe New York Times Sunday Book Review - Patricia T. O'Conner
"In her portrait of a California reading group, Karen Joy Fowler turns a mirror on the gawking, voyeuristic presence that lurks in every story: the reader. What results is Fowler's shrewdest, funniest fiction yet, a novel about how we engage with a novel. You don't have to be a student of Jane Austen to enjoy it, either. At the end are plot synopses of all six Austen novels for the benefit of the forgetful, the uninitiated or the nostalgic."
The reviews I read about this book that was turned into a movie seemed promising, but I did not care for this book. It was basically short stories of the women in this book club. When it was their turn to host that months club, the author would give a background story about them and what they were doing in the present. The characters only interacted together at the meetings (and one charity function). I'm not a big short story reader so I couldn't get into this book. The writing was good and I liked when they talked about Austen's books, but other than that, I was not fond of this story. I do want to see the movie though.
Have you read it? Let me know what you think. Maybe I am missing something here.