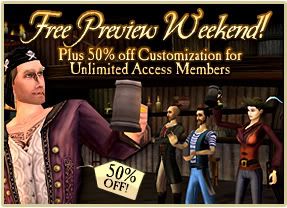 -
50% off Customizable items for Unlimited Access Members
-
Basic Access Players get a FREE preview of Unlimited Access
Starting August 15 to August 18, 12 PM PT, all Unlimited Access Members will receive a 50% discount on Customizable items and all Basic Access Players will get Unlimited Access to the Caribbean!
Calling all Pirates! As the Spaniard Garcia de Avaricia and Frenchman Pierre le Porc fight for control of their territories, the battle in the Caribbean rages on! Eager for new recruits to join the fight, the French and Spanish Pirate "Lords" have decreed that for a limited time, Unlimited Access be granted to all Basic Access Pirates! They've also been seen talking to shopkeepers all over the Caribbean negotiating rewards for those Pirates that are already Members of the Unlimited Access crew!
This means Unlimited Access Members get 50% off at all Clothing Tailors, Barbershops, Tattoo Parlors, and Jewelry Shops, so start pillaging for gold and get ready to outfit your Pirate with new clothes, tattoos, and other effects!
(
Please note:
This offer is only for a limited time! After August 18, Basic Access accounts that were upgraded for free will revert back to Basic Access status. Any Unlimited Access items you've acquired will be inaccessible unless you upgrade your account to Unlimited Access with a paid subscription.)
Don't make any plans between August 15 and 18 - unless those plans include sailing with us!