Contest now closed

-

Thank you for participating!
Win a copy of Disney Epic Mickey - Through December 31, 2010


We have a very special holiday contest for you. From now until December 31st, you have a chance to win a copy of Disney Epic Mickey which has been signed by designer Warren Spector!



All you have to do to enter is post below what your favorite element of Epic Mickey is or why you are so excited to play it. That's it. One lucky person will be selected at random on January 1st, 2011. There is no cost to enter. You just need to post below.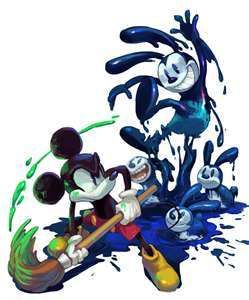 Epic Mickey reunites Mickey Mouse with his long lost brother Oswald in a madcap mashup of classic Disney attractions and animation. If you haven't seen it in action, this video is a great look into the amazing graphical style of the game:


You can find up to date info on the Epic Mickey Facebook page as well.

Don't wait to purchase your copy of the game or send as a gift to your family and friends: Buy Disney Epic Mickey

Good luck and please Tweet and share this contest with your friends on Facebook and beyond!

RT @MiceChat Win a signed copy of Disney Epic Mickey. Enter here by December 31st for your chance
http://su.pr/1EU7IG
** No cost to enter this giveaway. Prize provided by Fanscape Inc.
By entering this Sweepstakes and/or accepting any prize you may win, you agree, represent and warrant that you are 13 years of age, a United States Citizen and agree that: [1] you will be bound by the Rules and Sponsor's decisions, which shall be final in all respects; [2] the Entry becomes solely the Sponsor's property and will not be acknowledged or returned; [3] you release and hold harmless the
Releasees
from any and all liability for claims, injuries, losses or damages of any kind, including without limitation, death and bodily injury, resulting, in whole or in part, directly or indirectly, from the Entry; awarding, delivery, acceptance, use, misuse, possession, loss or misdirection of any prize; participation in this Sweepstakes or any Sweepstakes-related activity or travel or from any interaction with, or downloading of, computer Sweepstakes information; [4] the prizes are awarded "AS IS" and WITHOUT WARRANTY OF ANY KIND, express or implied, (including, without limitation, any implied warranty of merchantability or fitness for a particular purpose); [5] winner's acceptance of any prize constitutes the grant of an unconditional right to Sponsor and assigns to use winner's name, prize information, and/or statements about the promotion for any publicity, advertising, and promotional purposes without additional compensation, except where prohibited by law; [6] in the event viruses, bugs, unauthorized human intervention, acts or regulations of any governmental or supranational authority, Acts of God, war, national emergency, accident, fire, riot, strikes, lockouts, industrial disputes, acts of terrorism, or other matters beyond the Sponsor's reasonable control, corrupt, prevent, or impair the administration, security, fairness or proper play of this Sweepstakes, so that it cannot be conducted as originally planned, the Sponsor has the right, in its sole discretion, to modify the Rules or to cancel, modify, terminate, or suspend the Sweepstakes, and in such event, to select winners by such method as Sponsor in its sole discretion shall consider equitable; [7] the Releasees are not responsible for typographical or other errors in the offer or administration of this Sweepstakes, including but not limited to: errors in the advertising, Rules, selection and announcement of the winners and distribution of the prizes; [8] the Releasees are not responsible for any inability of any winner to accept or use any prize for any reason and [9] Sponsor has the right to modify prize award procedures at its sole discretion.